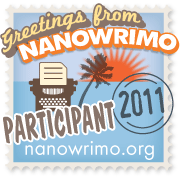 It's the end of week one of NaNoWriMo. I ended the week with a pretty decent word count: 12,115. I am hoping to stay a little bit ahead as I am going to a conference the week after next, and last year, that conference stalled my writing dead in the water. This year, I'm determined to carve out time to write, even if I have to go hide somewhere and do it. Par for day 6 of NaNoWriMo is 10,000 words, so I have an extra day and some cushion at this point.
Erin Morgenstern, whose book [amazon_link id="0385534639″ target="_blank" ]The Night Circus[/amazon_link] began life as a NaNoWriMo novel, wrote a pep talk for participants this week.
Of course, I haven't been reading as much, and truthfully, I haven't been able to figure out what I want to read. I am dipping into [amazon_link id="074348486X" target="_blank" ]As You Like It[/amazon_link] because it figures into my book, and I am still finishing [amazon_link id="9626343613″ target="_blank" ]Sense and Sensibility[/amazon_link]. I am hoping to be finished with that one, soon. I'm still waiting on [amazon_link id="140222267X" target="_blank" ]Willoughby's Return[/amazon_link] to arrive in the mail. I am also hoping to read some of Stephanie Barron's Jane Austen mysteries soon, but those may need to wait until December.
It was a good first week, and given how busy work was, I feel a sense of accomplishment over having kept my head above water with the word count. I am actively not rereading anything I've written. I'm not exactly afraid it's bad. I just know it's a draft and I can change it, but I don't want to do it yet. I want to focus on the draft and worry about the revision later.
I wonder if any other Sunday Salon folks are participating in NaNoWriMo?