After a great deal of consideration, I have decided Persuasion is my favorite Jane Austen novel. I had to read Pride and Prejudice, Sense and Sensibility, and Persuasion twice before I came to that conclusion. I haven't been able to finish Mansfield Park yet—it's on my list for the Everything Austen Challenge—but I didn't really like Emma as much as the others. I think what clinched it for me was Juliet Stevenson's reading of the novel in the Naxos audio book. She's simply perfect; there's no other way to put it.
For those unfamiliar with the story of Persuasion, it is the story of Anne Eliot, daughter of the baronet Sir Walter Eliot of Kellynch, who had the misfortune to have three daughters and must pass his estate to a cousin who has little to do with the family. Anne is the under-appreciated, sensible daughter in the family. She is now 27, and her prospects of marriage look dim now that she has "lost her bloom." Her older sister is snooty and vain, like their father, and her younger sister is a silly hypochondriac. Their mother has been dead for some time, but a friend of hers, Lady Russell, has taken on that sort of role, and Anne looks to her for guidance and support—certainly not more so that eight years earlier when Lady Russell persuaded her to break off her engagement to Frederick Wentworth, who seemed at that time unlikely to produce a fortune adequate to deserve the daughter of a baronet. But Anne has pined for Wentworth ever since, and their paths cross once again. Anne has no reason to hope they will have a second chance, especially after Captain Wentworth seems to have an eye for Anne's sister Mary's sister-in-law Louisa Musgrove. Can he be persuaded that Anne made a mistake before and to give her a second chance?
Juliet Stevenson's characterization of the silly Mary Musgrove and the pompous Sir Walter Eliot were hilarious. I loved the line from Admiral Croft, after noting he removed several mirrors from his dressing room at Kellynch, about Anne's father being a "dressy sort of man" to have had so many mirrors. Where Juliet Stevenson really shone, however, was in evoking feeling in parts of the novel that previously haven't really struck me in the same way. She read with a tremble, as though fighting back tears, Captain Harville's line to Anne, "Poor Fanny! she would not have forgotten him so soon!" I don't think I've been moved to tears by Captain Harville before. And forget about Captain Wentworth's letter. I was driving on I-285, sitting on the edge my seat, my hand over my mouth, and it was impossible not to feel the same way as Anne Eliot as she read those words. And then, "Such a letter was not soon to be recovered from." Well, I pretty much laughed out loud. Of course it wasn't.
Rating:





I listened to this book for the Everything Austen Challenge.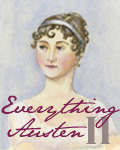 Full disclosure: I won this book in a contest at Austenprose.