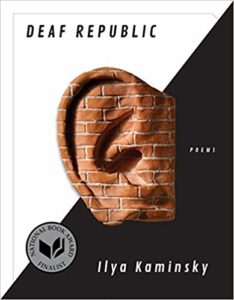 Deaf Republic
by
Ilya Kaminsky
Published by
Graywolf Press
on March 5, 2019
Genres:
Poetry
Pages:
80
Format:
Paperback
Buy on Amazon
Goodreads

Ilya Kaminsky's astonishing parable in poems asks us, What is silence? Deaf Republic opens in an occupied country in a time of political unrest. When soldiers breaking up a protest kill a deaf boy, Petya, the gunshot becomes the last thing the citizens hear—they all have gone deaf, and their dissent becomes coordinated by sign language. The story follows the private lives of townspeople encircled by public violence: a newly married couple, Alfonso and Sonya, expecting a child; the brash Momma Galya, instigating the insurgency from her puppet theater; and Galya's girls, heroically teaching signing by day and by night luring soldiers one by one to their deaths behind the curtain. At once a love story, an elegy, and an urgent plea, Ilya Kaminsky's long-awaited Deaf Republic confronts our time's vicious atrocities and our collective silence in the face of them.

Finalist for the T. S. Eliot Prize
Finalist for the Forward Prize for Best Collection
The conceit of Deaf Republic is interesting, especially given that Kaminsky is deaf. This collection is described as a commentary on our times, and it's true we are living in an era when a lot of people don't seem to be listening. They don't seem to be seeing either, but that's another issue.
Yesterday, I saw a tweet by Kaminsky that feels appropriate to share.
Thanks to all who RTed this poem from Deaf Republic. But now's NOT the time to live happily. Mad about the US's actions? Call your reps, write quality journalism & spicy op-eds & protest poems, get out in the street if you're able. We won't live happily during another war.#Resist https://t.co/nGEfxkhyWz

— Ilya Kaminsky (@ilya_poet) January 3, 2020
This tweet is in response to the rash actions of the person currently occupying the White House, which many speculate may lead to war. I suppose that remains to be seen. I admit to feeling some unease, which is a reason I picked up this book. Unfortunately, the book didn't do much to make me feel better. The closing poem makes it clear—whether we are living through a time or war or peace, the U.S. lumbers along, blind to the damage it causes its own citizens, never mind what it does to other countries. It's a fairly pessimistic collection, and yet, there is also the fact that the citizens of the town continued to fight, even as the soldiers began killing them. Always a dedicated few who want their freedom will risk everything to achieve it.
I appreciate what Kaminsky was doing, and the collection coheres well. The first (above) and final poems stand out for me. I am not sure how many of the individual poems stand up on their own, but I think that's my personal response. Most of my poetry-loving friends adore this collection. Still, I admire what Kaminsky attempted and achieved, especially because the commentary about human nature is fairly spot-on.