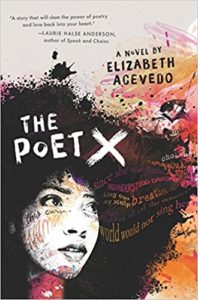 The Poet X
by
Elizabeth Acevedo
Published by
HarperTeen
on March 6th 2018
Genres:
Young Adult
Pages:
357
Format:
Hardcover
Buy on Amazon
Goodreads

A young girl in Harlem discovers slam poetry as a way to understand her mother's religion and her own relationship to the world. Debut novel of renowned slam poet Elizabeth Acevedo.

Xiomara Batista feels unheard and unable to hide in her Harlem neighborhood. Ever since her body grew into curves, she has learned to let her fists and her fierceness do the talking.

But Xiomara has plenty she wants to say, and she pours all her frustration and passion onto the pages of a leather notebook, reciting the words to herself like prayers—especially after she catches feelings for a boy in her bio class named Aman, who her family can never know about. With Mami's determination to force her daughter to obey the laws of the church, Xiomara understands that her thoughts are best kept to herself.

So when she is invited to join her school's slam poetry club, she doesn't know how she could ever attend without her mami finding out, much less speak her words out loud. But still, she can't stop thinking about performing her poems.

Because in the face of a world that may not want to hear her, Xiomara refuses to be silent.
I picked up this book for a couple of reasons: 1) all of my English teacher friends on Twitter were talking about it, and 2) Elizabeth Acevedo is keynoting at an English teachers' conference I plan to attend. This book is a great addition to my classroom library in that so few books feature a Latinx protagonist. Representation is critical. Aside from that, it's a great story as well. I passed it along to a colleague who will be teaching an English elective on the coming-of-age story or bildungsroman, and this novel is a perfect example of the genre with the twist of being written entirely in verse as well.
This book underscores the power of poetry and a good English teacher in helping young people find their voices. Elizabeth Acevedo has been both a teacher and a slam poet. The book also wrestles with the complicated question of finding one's identity down a different path than that chosen by parents. In addition, Xiomara discovers her brother is struggling with issues of his own. I hope he gets a sequel because I sense his story could be as powerful as Xiomara's, if not more so.
I would definitely recommend this book, especially to teenagers (its intended audience). This is the kind of book I think I would have loved to have had when I was a teenager, but people were not writing books like this when I was young. I'm grateful my students will have access to it.