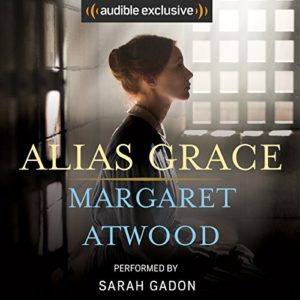 Alias Grace
by
Margaret Atwood
Published by
Doubleday Nan A. Talese
on November 2, 2017
Pages:
468
Buy on Amazon
Goodreads

From the number one New York Times best-selling author of The Handmaid's Tale

Soon to be a Netflix Original series, Alias Grace takes listeners into the life of one of the most notorious women of the 19th century.

It's 1843, and Grace Marks has been convicted for her involvement in the vicious murders of her employer and his housekeeper and mistress. Some believe Grace is innocent; others think her evil or insane. Now serving a life sentence, Grace claims to have no memory of the murders.

An up-and-coming expert in the burgeoning field of mental illness is engaged by a group of reformers and spiritualists who seek a pardon for Grace. He listens to her story while bringing her closer and closer to the day she cannot remember. What will he find in attempting to unlock her memories?

Captivating and disturbing, Alias Grace showcases best-selling, Booker Prize-winning author Margaret Atwood at the peak of her powers.

The miniseries Alias Grace is a Halfire Entertainment Production made for CBC and Netflix.
I think I've mentioned this before, but my husband and I like to listen to audiobooks while we cook dinner, and I have picked most of them. We made a deal that I would pick one more, and I was supposed to surprise him and pick whatever I wanted, and then it would be his turn. We had tried to listen to Lincoln in the Bardo, but I just couldn't follow the story in audio. That was the last book my husband picked, I think. I thought long and hard about which book to pick. I almost picked The Handmaid's Tale because I don't think he's read it, but I have read it, and I had wanted to read Alias Grace. I thought maybe my husband would like it because it is based on a true crime story, and he is something of a true crime aficionado.
Both of us liked the novel quite a lot. I think we are planning to watch the Netflix series, too. My husband remarked several times about what an excellent writer Margaret Atwood is. I am not sure if we were meant to think about Dreiser's An American Tragedy, which was also based on a true crime. To my way of thinking, Alias Grace has more than a healthy dose of Naturalism as well. It explores themes of mental health, treatment of women, sexuality, and gender as well as social issues involving Irish immigrants. Grace emerges as a sympathetic character, but at the same time, it's difficult to know who she really is, especially by the end. Atwood weaves the narrative together well through the frame device of Dr. Simon Jordan, an American interested in mental health issues, who visits Grace to learn more about her story and the infamous murders that resulted in her imprisonment as a teenage girl.
Sarah Gadon plays Grace Marks in the Netflix adaptation of the novel, and she does a worthy job with the narration of this novel as well. This one is definitely worth a listen.