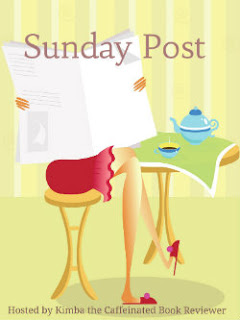 I finished my re-read of the Harry Potter series late last night. I spent pretty much all day yesterday reading, which is something I haven't done in a long time, and it felt great. I was reading on my Kindle, and I think I was about a fifth (or close to a fourth) of the way into Harry Potter and the Deathly Hallows when I picked up the book yesterday, and I just read it until I finished it. Every time I finish re-reading the books, I go into a little bit of a post-Potter funk and don't quite know what to do with myself, so I re-read The Tales of Beedle the Bard. I find so much in those books each time I read them. I can say with certainty that they are my desert-island books. With Pottermore making some changes, I will be interesting to see what they come up with. They have discovered that most of the site's users are not children, as they anticipated, but adults visiting the site for the extra encyclopedic information and backstory. As a result, they've decided to remove the games and interactive parts of the site and focus on the information. From what I understand, not everyone is happy about this, but since I was more interested in the new writing than brewing potions, fighting duels, or playing games, I'm welcoming the changes. I am a little sad they are dispensing with the House system. Proud Ravenclaw, here. Oh, and with that, I think they will be eliminating shopping for your wand. The part of the site I return to most often are the articles about wandlore. My wand is sycamore, phoenix feather core, 10¾ inches, hard.
I did go ahead and pick up This House is Haunted by John Boyne for the R. I. P. Challenge. I'm still trying to decide which other books to read, but that one's been on my Kindle for a long time now, so I decided I would start with that one. It might perhaps be a mark of how much I love this reading challenge that I'm prioritizing it over my book club and other books I want to read as well.
I didn't add any books to my to-read pile this week, which was probably smart. It's too big already. I have a lot of books I need to go ahead and just finish, most of them re-reads for school.
I've been lamenting the sad fact this week in particular that my children don't enjoy reading as much as I do. I have been fairly successful in matching my own students with books, but as much as I try, it doesn't seem to work as well with my own children. I am a firm believer that it's not true that people don't like to read. I think sometimes they haven't found what they like to read yet, and schools do a great deal of damage in this regard by not allowing students to choose their books, especially in the crucial years of middle school and early high school. If you're going to lose a reader, I've noticed, you generally lose them right about 7th grade. Especially boys. I'm working on it, but if you have tips, please share.
The Sunday Post is a weekly meme hosted by Caffeinated Book Reviewer. It's a chance to share news, recap the past week on your blog, and showcase books and things we have received. See rules here: Sunday Post Meme.