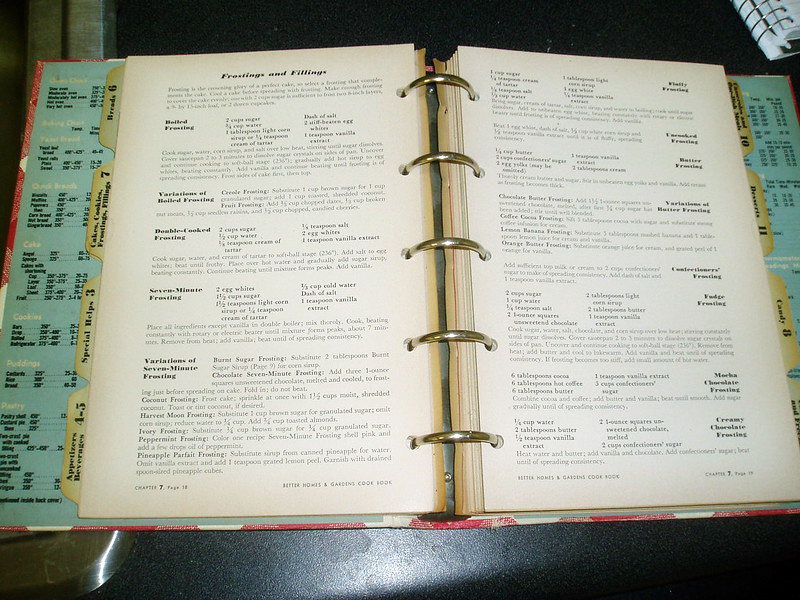 The first cookbook I owned was the Better Homes and Gardens Cook Book. This cookbook is famous for its checkerboard cover. My first copy was a wedding gift, and the second I bought to replace the first when it fell apart. Both copies were ring-bound with tabs dividing the sections, and I understand the newest iteration of the cookbook doesn't include that feature. My first copy was a wedding gift, and the second I bought to replace the first when it fell apart. Another quirk both of my copies shared was that they were both Pink Editions (Celebrating the Promise), limited editions of the book that supported the Susan G. Komen for the Cure organization. Now that I know more about that organization, I don't really support their work. My grandmother had breast cancer, and family members have supported this organization's work, but if you want to read some critiques of this organization, check out these articles:
I love this cookbook, however. It includes a section with special recipes by celebrity chefs. To be honest, I haven't touched that section, which may not be included in other editions of the book. I love the Cooking Basics section with helpful advice on equipment, cooking terms, smart shopping and menu planning, measurement, ingredients, and more.
My two staple recipes from the book are the Pepper-Lime Chicken (p. 467) and the Peanut Butter Cookies (p. 249). Both recipes are simple and delicious. I grew up eating peanut butter cookies made from this recipe, and they're still my favorite peanut butter cookie. I have also made the Salsa (p. 66) and Buttermilk-Brined Fried Chicken (p. 458) more than once. The Zucchini Bread recipe (p. 132) is a good one. I don't always think their recipes are the best available. I made the French Onion Soup (p. 566) recipe in this book for over a decade before I found a better one from Ina Garten.
I haven't come remotely close to cooking my way through the book, even though I've owned a copy of the book for 30 years. But everything I've tried has been easy and has worked well. I believe this book is a staple for any cook's kitchen because of its versatility. New editions cater to changing preferences by including new and updated recipes, but classics never die. When I'm not sure where I might want to start, I start with this book.
You can purchase the book's latest edition from either Bookshop.org (support local, independent bookstores!) or Amazon (affiliate links earn me commissions).