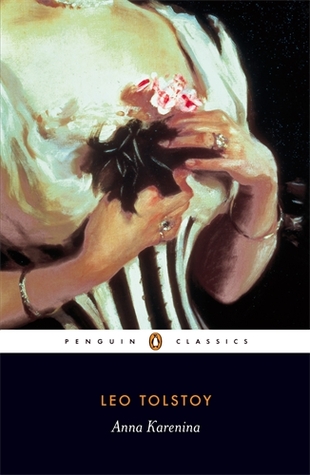 Anna Karenina
by
Leo Tolstoy
,
Richard Pevear
,
Larissa Volokhonsky
Published by
Penguin Books
on January 30, 2003
Genres:
Classic
Pages:
852
Format:
Audio
,
Audiobook
Source:
Audible
Buy on Amazon
Goodreads

"Everything is finished. I have nothing but you now. Remember that."

Anna Karenina seems to have everything—beauty, wealth, popularity, and an adored son. But she feels that her life is empty until the moment she encounters the impetuous officer Count Vronsky. Their subsequent affair scandalizes society and family alike and soon brings jealously and bitterness in its wake. Contrasting with this tale of love and self-destruction is the vividly observed story of Levin, a man striving to find contentment and a meaning to his life—and also a self-portrait of Tolstoy himself.
I have tried to read this book several times and not been able to get very far. I think my problem was the translation. On a fellow English teacher's recommendation, I sought out the Pevear and Volokhonsky translation, and it was so wonderful that now I'm rethinking my experience with Crime and Punishment—perhaps I should try that book again with the Pevear and Volokhonsky translation?
Anna Karenina was (when I finally read it) one of the most amazing books I've ever read. If I had one quibble, I'd say it's mistitled. To me, this book is really Levin's story. He is the character around which all the storylines revolve. He was my favorite character and also the most interesting psychologically. I loved the passage near the beginning when he sees Kitty skating, and Tolstoy writes, "He stepped down, trying not to look long at her, as if she were the sun, yet he saw her, like the sun, even without looking." I mean… Damn. It was nearly 37 hours long, and I would have listened to more. Tolstoy just understands people. I haven't seen the like in anything else I've read, excepting maybe Shakespeare and Toni Morrison. In fact, it would not surprise me to learn that Toni Morrison liked Tolstoy (I need to read more of her nonfiction). In spite of the massive length of his books, reading this made me want to read more. I'll be sure to read Pevear and Volokhonsky's translations, no matter what, because I was really impressed with their work. Obviously, I don't know Russian, but what I appreciated was the readability. I have had so much trouble reading books translated from the Russian in the past.
I read that Larissa Volokhonsky essentially translates Russian texts word-for-word, and Richard Pevear then finesses the translation so it sounds better in English. It struck me as kind of a smart approach. Translation is definitely an art. One thing I often did when I taught Beowulf was to ask students to compare several different versions of the same passage to see what they liked and disliked about each one. This translation of Anna Karenina was the one selected by Oprah Winfrey for her book club, and it catapulted Pevear and Volokhonsky into the limelight.
As to the novel itself, setting aside the translation, it seems to capture so much about the human condition: yearning and love, double standards for men and women, parenting and families (that opening line, of course). I got the sense that each character in the novel, no matter how minor, was walking into the novel from a novel of their own. They were all so incredibly real. I almost didn't feel like I was reading a book. It's hard to explain, but reading this book was more like listening to the stories of friends. It was just… incredible. A new favorite.