Sarah Maine's novel The House Between Tides begins with a mystery. Hetty Deveraux (which feels too much like a name only a novel character would have) travels to a remote manse belonging to her ancestors and discovers a body has been found under the floorboards. Hetty soon finds herself untangling a century-old murder as she tries to determine what to do about Muirlan House—tear it down and try to preserve the island's unique character, as the inhabitants of Muirlan Island think best, or renovate it into a resort hotel as her partner Giles urges her to do. Meanwhile, Hetty becomes curious about her ancestors. The island had once been the inspiration and refuge of her great-grandmother Emily's brother Theo Blake, a famed painter. Hetty discovers that Theo's wife deserted him under mysterious circumstances, and she begins to fear she knows whose bones were found underneath the floorboards of Muirlan House. Meanwhile Beatrice Blake, Theo's wife, tells her story in flashbacks. The the stories of two women, living a century apart, link inextricably with family secrets and a crumbling ancestral home in the space between them.
I have to admit this book was a slow starter for me, even with the discovery of a body under the floorboards. Maine does a great job of creating the atmosphere of Muirlan Island in the Outer Hebrides, a remote and unforgiving landscape that nonetheless lures both Hetty and Beatrice with its fierce beauty. Once the story gets going, however, it's pretty good. Some aspects of the plot were a little easier to guess than others, and the unraveling of the mysteries that lay buried for so many years made for a satisfying ending. However, I was a good third of the way through the book and contemplating giving up on it before it started to capture my interest. I enjoyed the rest of the book. The parallels between Hetty and Beatrice were interesting, and the family secrets intrigued me enough to persevere through some of the parts that dragged. I have seen some reviewers claim not to have enjoyed the parts set in 2010 with Hetty, but I actually found them more interesting because the discovery of the body as well as Hetty's conflicted feelings about her partner and his plans for her ancestral home were intriguing to me. I love historical fiction, and at first, I found Beatrice's story the less interesting of the two. However, as I kept reading, Beatrice grew on me. The book is compared to Daphne Du Maurier's atmospheric writing, which is a shame because few writers can create a brooding setting like Du Maurier, and anyone suffers by comparison. I think I need to stop having such high expectations of anyone whose work is compared to Du Maurier's. Still, it was a good read, and the setting was well drawn, if perhaps the characters were not always—I found the minor characters very difficult to keep straight, and the family trees impossible. I also found parts of the story frustrating as I hoped Maine was going somewhere with a thread that was never quite woven in well enough.
Rating:





I am counting this book toward the following reading challenges: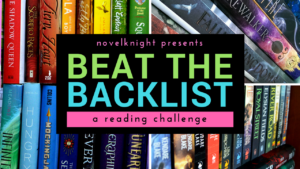 I am counting this book for the Beat the Backlist Challenge. This book has been on my Kindle since last September, but I didn't start reading it until recently. It was published in 2016, and therefore meets the challenge's qualification of being released before 2017. I read this on my Kindle, but Goodreads says the paperback version has 400 pages, which is the equivalent of 40 points for Ravenclaw, and posting this review should net 50 more points for a total of 90.
Because about half the book takes place in 1910, I'm also counting it for the Historical Fiction Challenge. In addition, Sarah Maine is a British writer, so this book counts towards the British Books Challenge.

Finally, as the book is set in Scotland, part of the UK, it also counts as part of the European Reading Challenge, though this is the only UK book that will count toward the challenge.