I love reading challenges. After not having the best reading year this year, I'm hoping that I can jump start things with a few challenges that looked interesting to me. Here are some of the reading challenges I'm trying in 2017.
The Wild Goose Chase Reading Challenge 2017 is "designed to be fun, frivolous and filled with feathers." In other words, it challenges participants to pick a range of books from an eclectic list of seven categories: 1) a book with a word or phrase relating to wildness in the title, 2) a book with a species of bird (or the word "bird") in the title, 3) a book with an exotic or far-flung location in the title, 4) a book with an object you might hunt for in the title, 5) a book with a synonym for chase in the title, 6) a book with a means of transport in the title, and 7) a book with an object you might take on a search or hunt in the title. It looks like fun to me. I'm not sure right now which books I might select, but I like the idea of going on a "wild goose chase" to find fun titles that fit the criteria.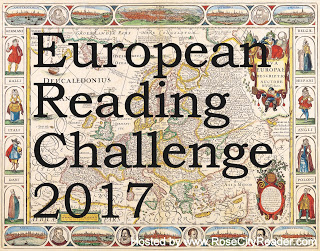 I love to read books set in Europe, but if I'm honest with myself, I have to admit most are set in the UK with a sprinkling in France. Perhaps the European Reading Challenge 2017 will help me try some different settings. The idea is to read books set in one of "50 sovereign states that fall (at least partially) within the geographic territory of the continent of Europe and/or enjoy membership in international European organizations such as the Council of Europe." I am going to go for the FIVE STAR (DELUXE ENTOURAGE) level and "read at least five books by different European authors or books set in different European countries."
If some of my other favorite challenges run again next year, I'll do them as well. I always love doing the Historical Fiction Reading Challenge and the Reading England Challenge. The R. I. P. Challenge is my absolute favorite, but it's not usually announced until August. I'll keep my eyes open for other interesting challenges as well.
I have two other challenge-related goals for 2017:
Link up my reviews on challenge sites and participate more. I usually do the reading, but I forget to follow up with linkups, and I almost never read others' reviews. I'd like to try being more involved with the challenges next year.
Read books set in Asia and Africa. I want to broaden my book settings a bit, and I admit these two continents are the ones I have visited most rarely in my reading (and if I am fair, South America, too, but I'd really like to make this more doable by focusing on two continents). I already have a list and some ideas. I don't want to make it an official challenge—more of a personal one.
Once the year ends, I will change my Reading Challenges page to reflect 2017 challenges.
If you know of any good challenges that might interest us readers, clue us in the comments.