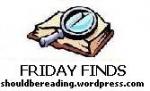 I started back to work this week and didn't spend as much time scouting for books to add to my TBR pile, but I did find a few.
I came across [amazon_link id="0312556934″ target="_blank" ]Yankee Doodle Dixie[/amazon_link] by Lisa Patton at Peeking Between the Pages. What a beautiful, beautiful cover. I love the green in the dress next to the pretty peaches. Sort of a [amazon_link id="B000QRIGLW" target="_blank" ]Twilight[/amazon_link]-esque cover, I guess, but prettier. I discovered this book is actually a sequel to [amazon_link id="B0044KN1EE" target="_blank" ]Whistlin' Dixie in a Nor'easter[/amazon_link], which is on sale on Kindle for just $2.99 right now. I snapped it up. Both books are now on my list.
I also found [amazon_link id="0571226531″ target="_blank" ]On Canaan's Side[/amazon_link] by Sebastian Barry, which was longlisted for the Man Booker Prize.
Did you find any potentially good books this week?
[amazon_image id="0312556934″ link="true" target="_blank" size="medium" ]Yankee Doodle Dixie: A Novel[/amazon_image] [amazon_image id="B0044KN1EE" link="true" target="_blank" size="medium" ]Whistlin' Dixie in a Nor'easter[/amazon_image] [amazon_image id="0571226531″ link="true" target="_blank" size="medium" ]On Canaan's Side[/amazon_image]