I'm not sure I could tell you how many times I read Judy Blume's YA novel Tiger Eyes. I know I read it for the first time in fifth grade, so I must have been 11. My copy had the cover to the left, but I've seen at least three iterations of the cover since then, and it remains, in my opinion, the one that best captures the fragile Davey Wexler, who is the heroine of the book. Tiger Eyes is one of my favorite books and is, in my opinion, one of the best YA books ever written. I think it's Judy Blume's best book, which is saying something, because she was my favorite author as a child. I read nearly all the books she published up until the mid-1980's, including Are You There God? It's Me, Margaret; Then Again, Maybe I Won't; Forever, Iggie's House; Tales of a Fourth Grade Nothing; It's Not the End of the World; Superfudge; Otherwise Known as Sheila the Great; Blubber; and Deenie. Of all of them, Tiger Eyes was my favorite.
Tiger Eyes is the story of Davey, near-witness to her father's murder in a convenience store. In the aftermath of his death, Davey spirals into depression. Davey's mother takes her sister-in-law Bitsy and her husband Walter up on their offer to allow the Wexlers to move in with them in their Los Alamos, NM home, nearly all the way across the country from Atlantic City, NJ, where the Wexlers live. In New Mexico, Davey makes two important friends: Jane and Wolf. Jane is an alcoholic, and Wolf is the son of the man Davey cares for in the hospital as a candy striper. Over time, Davey is able to accept her father's death and move on with her life.
If you follow Judy Blume on Twitter, and you should—she has the coolest Twitter bio ever ("Are you there, Twitter? It's me, Judy.)—you know that filming for Tiger Eyes is currently taking place. Willa Holland is playing Davey.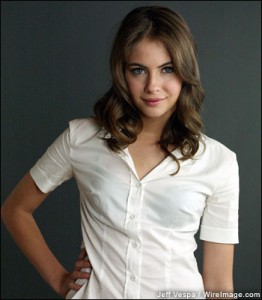 And Tatanka Means is playing Wolf.
Blume's son Lawrence Blume is directing the film. You know what? It's the first major motion picture adapted from one of Judy Blume's books. I couldn't believe it when I read that, but it's true. It's set to be released next year. I will definitely watch it, but I wonder if it can ever touch the novel. Judy Blume is producing it, and with her son directing, it should be easier to make sure her vision is achieved.
It's hard to articulate what Tiger Eyes means to me. I loved Davey. She was like family. I feel like I grew up with her. She lived through a horrible experience, but she was strong, and she survived. For me, this book was about hope and the human capacity for love and resilience. My copy of Tiger Eyes was worn out, and I'm pretty sure the cover eventually just came off. It should be interesting to see one of the most important books of my childhood on the silver screen.