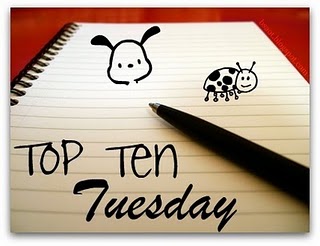 More, Please!
Supporting indie bookstores. I don't have a good one nearby, but if I did, I'd be there all the time. We used to have a really cute one called Coffee Buy the Book, but they closed (not shocking, but sad). Very cute little store, and really convenient to my house. There is an awfully cute one in Decatur called Little Shop of Stories, but dang, that's far away clear on the other side of all that Atlanta traffic. Sigh. We always go when we hit the Decatur Book Festival, though.
Great book blogs. The more the merrier! I love reading about other people reading.
Including book bloggers and Goodreads members in ARC's, galleys, and free books like other reviewers. I love to read, and I review every book I read. Sometimes it's nice to get a free book. It doesn't influence my reviews, but it does ease the strain on my pocketbook.
Witches. I love books about witches. Keep writing them, writers! Witches are so cool, whether they are witches with real powers or just misunderstood women accused of witchcraft in historical fiction. You know, Salem was kind of kitschy with the witches, but I would totally live there if it were feasible. I loved it.
Pottermore! It's fun to once again be waiting on tenterhooks for new stuff from Jo! I scored an early registration. Have you tried to get one yet? I think you have four more chances!
No, Thanks!
Vampires with no fangs. Vegetarian vampires? Really? I don't mind scary vampires who actually suck blood and might be dangerous. But vampires would wouldn't hurt a person because they suck animal blood? Meh. That's weak. I understand it. You don't want your hero to be evil. But sucking blood is evil! Make it a plot point, like Lestat and Louis, who wrestle with their consciences about being vampires (a little bit—Louis, more than Lestat).
Harry Potter fanfic pr0n. Don't get it, never will. Slash or straight or whatever, it's not right, especially when students are paired with teachers.
Overpriced Kindle books. Kindle books used to be reliably cheaper than paper books. Now publishers are driving up the prices. Having manufactured a Kindle book myself, I can tell you it involves almost no cost. I am all for supporting the authors, but somehow I don't think they're the ones profiting from the high cost of Kindle books.
Amazon hate. I understand it. I think I know where it's coming from. I know folks blame stores like Amazon for Borders closing (Borders made several mistakes that contributed). I know supporting independent stores or even chain brick-and-mortar stores is good. I would do more of it if I had one nearby, but I have to drive quite a ways to reach one, and I live in the suburbs of a large metropolitan area. If brick-and-mortar stores could offer me the same services as Amazon, I might be a more frequent customer. Amazon, however, offers me free shipping (most of the time), allows me to download books instantly on my Kindle, replaced my Kindle with no questions asked when I broke it, and gives me a small commission in gift certificates as an Amazon Associate (which helps me support my book habit). They have been good to me, and I've been doing business with them for about thirteen years or so.
Book banning and censoring. You heard that Wesley Scroggins managed to have Kurt Vonnegut's [amazon_link id="0385333846″ target="_blank" ]Slaughterhouse Five[/amazon_link] and Sarah Ockler's [amazon_link id="0316051586″ target="_blank" ]Twenty Boy Summer[/amazon_link] removed from school curricula and libraries in Republic, Missouri, right? He is far from alone. I absolutely support a parent's right to make decisions about what his/her own children read, but that parent has no right to tell me what my kids can read. Teachers always, always, always provide alternatives to individual students who cannot read a book either due to parental objections or their own. As Vonnegut himself said about censorship:


And on the subject of burning books: I want to congratulate librarians, not famous for their physical strength or their powerful political connections or their great wealth, who, all over this country, have staunchly resisted anti-democratic bullies who have tried to remove certain books from their shelves, and have refused to reveal to thought police the names of persons who have checked out those titles.

So the America I loved still exists, if not in the White House or the Supreme Court or the Senate or the House of Representatives or the media. The America I love still exists at the front desks of our public libraries.