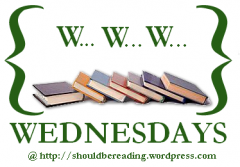 To play along, just answer the following three (3) questions…
What are you currently reading?
What did you recently finish reading?
What do you think you'll read next?
I'm currently reading [amazon_link id="0451531388″ target="_blank" ]A Room With a View[/amazon_link] by E. M. Forster. It's not much like anything I've ever read before. The characters are perhaps the most realistic characters of any books I've read recently. I'm liking it.
I recently finished [amazon_link id="1402241372″ target="_blank" ]The Winter Sea[/amazon_link] by Susanna Kearsley (review). I enjoyed it. A nice book to finish my summer on. Our new school year starts on the 15th, but I came in this week to prepare some technology training materials for faculty. I expect my reading will slow down, now.
The next book I will probably read is [amazon_link id="0061579289″ target="_blank" ]Adam & Eve[/amazon_link] by Sena Jeter Naslund. I have to admit I'm nervous about it. I agreed to read it for a book blog tour, but it has pretty low ratings, and most of the reviews read something along the lines of "What was she thinking?" and "I loved [amazon_link id="B000FC10KC" target="_blank" ]Ahab's Wife[/amazon_link], but what is this?" I actually really loved Ahab's Wife (review). We'll see.