Coraline Jones is bored. Her parents are too busy to play, and the weather isn't cooperating, so she explores. Behind a locked door, she finds the entrance to a completely different world. Neil Gaiman's novel Coraline is compared to Alice in Wonderland or The Chronicles of Narnia on the book jacket, and while the comparison is fair, Coraline's world beyond the locked door is different: it's far creepier and in some ways more believable than Carroll or Lewis's worlds are. Every child knows that there is a mysterious world beyond the mirror or behind the locked door no one ever seems to open.
Gaiman is a master storyteller. I have thoroughly enjoyed all his books I've read, and I love to read his blog and even keep up with him on Twitter. He's a true dry wit, which comes through in his stories as well as his blogging. The characters and the world he creates in this book, as well as the others, however fantastic, always seems believable and real. If you've not read Coraline, you should definitely pick it up. It's a quick read, and though it's classified as a children's or young adult novel, I wouldn't let that classification stop you any more than it should stop you from reading the Harry Potter series.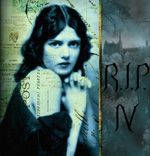 This book is the first book I've finished in the R.I.P. Challenge. I also plan to read Bram Stoker's Dracula (currently in progress), John Gardner's Grendel (my next selection), and Joe Hill's 20th Century Ghosts. If I actually complete the challenge ahead of schedule, I may continue reading the creepy books, which are a perfect way to usher in the fall weather.