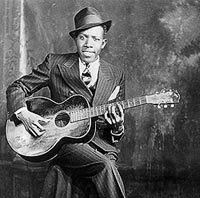 Something most of you probably don't know about me is that I love Delta Blues. I cannot claim to be an expert, and some of you probably know a lot more about the various musicians than I do, but I do know what I like. I bought my first blues album on cassette tape when I was a teenager. It was a Robert Johnson album — King of the Delta Blues Singers. My introduction to Delta Blues was probably not dissimilar to that of most skinny white kids. I liked Eric Clapton, Led Zeppelin, and the Rolling Stones. In all the various books, interviews, and articles I read, these artists all named the blues as their favorite music — the music that made them want to play. I took a guitar class in high school when I lived in California. My teacher, Mr. Ingram, used to play blues recordings, admonishing us to "listen to the guitar, not the lyrics!" Of course, that ensured that we would try to make out what that old bluesman on the scratchy recording was saying.
I never heard anything that sounded quite as desperate as Robert Johnson's quaking voice proclaiming the hell hound was on his trail. While I can't claim to own a lot of blues music, when I am flipping stations in the radio or on TV and run into the blues, I always stop and listen for a while. I guess my relationship with the blues is a funny one — I forget about how much I love the blues until I hear it; therefore, it doesn't occur to me to buy blues CD's when I'm shopping or to seek out blues music in other forms.
I have been looking for some time for a good way to play music from this blog. I used to have a Radio Blog here, and I still like those, but I wanted something smaller — and frankly, something that wouldn't be such a pain to update. Whenever I wanted to change out music, I had to convert my mp3's to files that could be played by the Radio Blog, then upload the music via FTP. It might not seem like a big deal, but it took quite a while due to the large size of most sound files. And to be perfectly honest, I never got much feedback that indicated any readers really listened to the music, so it was probably a lot of hard work for just about nothing. I think Radio Blogs are great if you don't mind doing a lot of work to keep them updated, or if you don't want to update often. In fact, I use them on several websites on which I have static music, such as the Great Gatsby activity, Zora Neale Hurston activity, and Romanticism activity I have created for my students.
I knew I didn't want to put Radio Blog back on the site, and I wasn't happy with the fact that Last.fm didn't have streaming audio for blogs — I could link to songs, and listeners could hear snippets of them, but as good as Last.fm is if you want to somewhat personalize your radio, it isn't very good for blogging purposes (or else I haven't figured out how to use it correctly). I don't like just linking to other sites. I wanted to provide content, maybe even introduce readers to things they hadn't heard before. I wanted to share some music that I liked, that moved me. And I wanted to do it on my own blog, not by sending you elsewhere and hoping you'd go listen.
Every once in a while, when I thought about it, I would poke around looking for something that worked like YouTube or Google Video, only for music. In other words, I didn't want to mess around with big files — I just wanted to share music. I found such a site today. Of course, I don't pretend I'm sharing anything new. In fact, I'd be willing to bet a lot of you have already heard of Odeo. Odeo allows bloggers to embed players in their blogs. What's more, they have several style choices, so you can pick the size and color that best matches your blog scheme. Since I had never visited the site before, I decided to browse the music before trying to search for music I liked by artist or song. Odeo's sidebar allows visitors to browse by topic. I selected music (Odeo also has podcasts on lots of other topics). One of the featured channels on the main music page was Delta Blues Museum: Clarksdale, Mississippi. I browsed through their previous podcasts and chose an older one from last February featuring music about Dealing with the Devil. If you want to give it a listen, it's in the player in the lefthand sidebar. I really enjoyed it, and I hope you do, too. I'll try to update with links to other music and podcasts I enjoy fairly often, as updating is really painless with Odeo.
Next month I am chaperoning a trip with the 11th graders to Alabama and Memphis, Tennessee. It is a Civil Rights journey. On the way, we will visit the battleground of the Civil Rights Movements in Alabama along with an exploration of African-American roots music in Memphis. I am most looking forward to this part of the trip. We will visit Graceland and Beale Street. We are going to a real blues club to hear live music. I can't wait.