I am so excited! I just discovered digital scrapbooking thanks to TK's beautiful scrapbook, which was linked from Creative Gene, my online buddy Jasia's genealogy blog. I love scrapbooking, but the materials are fairly expensive, and I don't have a way to share my creations with family members. I created my first digital scrapbook page last night. It features my niece Abby and her friend Brandon at Easter. Here it is:
I was unhappy with some of the limitations I encountered with my old version of Adobe Photoshop. Every time I tried to open up a PNG file, Photoshop stopped responding and I had to shut it down via the Task Manager. Very frustrating, especially because all of the cute little graphics, like bows and flowers, that come with the scrapbook theme kits are PNG files. I could only use the JPG files that came with the theme kits. I still think it's cute, but I could have made it really cute.
I downloaded a free trial of Adobe Photoshop Elements, which came highly recommended by several digital scrapbooking resources I found online. I have only played with it a short time, and I already think I would like to purchase it, provided I can afford it by the end of the trial. It's much cheaper than Photoshop, which retails for $699 on Adobe's website (!). Elements is less than $100, actually. I created a scrapbook page featuring my great-great grandmother Stella Bowling Cunningham using Elements, and I am really excited about how it came out: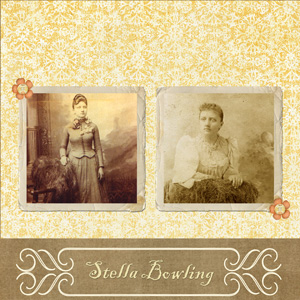 I created this page using the Vintage Florals collection at Shabby Princess (which is a great resource for free scrapbooking materials). I took two pictures of Stella that were given to me by my grandfather's cousin Mary and put them in a frame called Simple Vintage, provided by Elements. The picture on the right is actually black and white, but I played with the color variations until I had a sepia tone that I liked. I created the page using layers. The text is in a font called Blackadder, and I enhanced it with a drop shadow.
If you would like to learn more about digital scrapbooking, you might want to check out these websites, which I have found very helpful.
[tags]digital scrapbooking, scrapbooking, photos, Photoshop Elements[/tags]