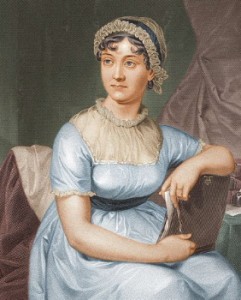 It's Jane Austen's 235th birthday. Happy birthday, Aunt Jane! If you're looking to celebrate, Maria Grazia of My Jane Austen Book Club and Fly High blogs is sponsoring a birthday blog tour. Check out posts at each of the blogs for giveaways:
Adriana Zardini at Jane Austen Sociedad do Brasil
Laurel Ann at Austenprose – A Jane Austen Blog
Vic Sanborn at Jane Austen's World
Katherine Cox at November's Autumn
Karen Wasylowski at  Karen Wasylowski Blog
Laurie Viera Rigler at Jane Austen Addict Blog
Lynn Shepherd at her Lynn Shepherd Blog
Jane Greensmith at Reading, Writing, Working, Playing
Jane Odiwe at Jane Austen Sequels Blog
Alexa Adams at First Impressions Blog
Regina Jeffers at her Regina Jeffers Blog
Cindy Jones at First Draft Blog
Janet Mullany at Risky Regencies Blog
Maria Grazia at My Jane Austen Book Club Blog
Meredith at Austenesque Reviews
You might also be interested in the Jane Austen Made Me Do It Short Story Contest, hosted by the Republic of Pemberley and edited by Laurel Ann of Austenprose. The contest begins on January 1, 2011, and is open to previously unpublished writers over the age of 18. Stories must be approximately 5,000 words long. Manuscripts can be submitted from January 1 until February 13. Voting for selections will take place from February 14-28. The winner will have his or her story published in the anthology Jane Austen Made Me Do It, slated for publication by Ballantine in Fall 2011. What an excellent opportunity to appear alongside writers like Laurie Viera Rigler and Syrie James!
In honor of Jane's birthday, please talk about your favorite Austen book or quote in comments, or your favorite Austen sequel or derivative work if you like. For what it's worth, my favorite novel is Persuasion, and my favorite quote is Captain Wentworth's letter, which has its own Facebook fan page. As it should.