Marilyn Yalom's book [amazon asin=0062048317&text=How the French Invented Love] is an interesting look at the French attitude toward love from the Middle Ages to today. Yalom's source material is the body of French literature produced over time.
As a fan of medieval literature, I particularly enjoyed Yalom's examination of the letters of Abelard and Héloïse, whose story should fascinate anyone interested in true love. I thoroughly enjoyed the long chapter on courtly love and wished I were teaching the concept in a course again, as I have done in the past, because I think Yalom's ideas would help me break down the idea in a way that would be easier for my students to understand. It has traditionally been a difficult concept for me to teach. I loved seeing the references to Guinevere and Lancelot. I always found it interesting that the French invented perhaps the most famous Arthurian knight—Sir Lancelot (I have always been more partial to Sir Gawain).
Another section I enjoyed was the chapter on George Sand and Alfred de Musset. I encountered George Sand's journals about her relationship with de Musset in college, and I developed an interest in Sand that endures to this day as a result. Like Yalom, I adore the English Romantics (one of my best ever dreams was about having tea with Byron, Shelley, and Keats), and Yalom begins that chapter with a comparison between English and French Romantics before focusing more narrowly on George Sand. As Yalom notes, Sand gave her entire "heart and soul" to whatever "enterprise" with which she was concerned, whether it was writing or an affair. Her journals about the end of her relationship with de Musset are so heart-wrenching, that I wondered how she ever recovered from the loss. Yet, she went on to have other affairs, notably with Frederic Chopin. That she could recover and love again speaks to resiliency of the human heart.
I would recommend this book to anyone interested in the subject, but particularly to literature scholars. I enjoyed the narrow focus of the history of love in French literature. One quibble I had with the writing style was Yalom's propensity to insert herself in the thread of the book. It made the book feel more anecdotal and perhaps less formal, which may have been Yalom's goal, but it's not typical of other nonfiction of this type (or at least not that I've noticed), and I found it drew my focus away from what she was saying—each time I encountered it, I was rewriting the sentence in my head to remove the personal reference. I can't explain why it bothered me, particularly, but it did.
At any rate, this was an interesting read, and anyone who enjoys literature, especially Francophiles, will enjoy it very much. I would definitely read more of her writing.
Rating:






About Marilyn Yalom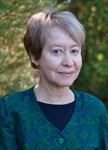 Marilyn Yalom is a former professor of French and presently a senior scholar at the Clayman Institute for Gender Research at Stanford University. She is the author of widely acclaimed books such as A History of the Breast, A History of the Wife, and Birth of the Chess Queen, as well as The American Resting Place: Four Hundred Years of History Through our Cemeteries and Burial Grounds, which includes a portfolio of photographs by her son Reid S. Yalom. She lives in Palo Alto, California, with her husband, the psychiatrist and author Irvin D. Yalom.
Marilyn's Tour Stops
Tuesday, October 23rd: The Year in Books
Thursday, October 25th: Unabridged Chick
Tuesday, October 30th: Doing Dewey
Wednesday, October 31st: Take Me Away
Monday, November 5th: Sophisticated Dorkiness
Tuesday, November 6th: Dreaming in Books
Wednesday, November 7th:Â Bibliophiliac
Thursday, November 8th: Book Hooked Blog
Friday, November 9th: BooksAreTheNewBlack
Monday, November 12th: missris
Wednesday, November 14th:Â Oh! Paper Pages
Wednesday, November 28th:Â Much Madness is Divinest Sense
TBD:Â The Written World