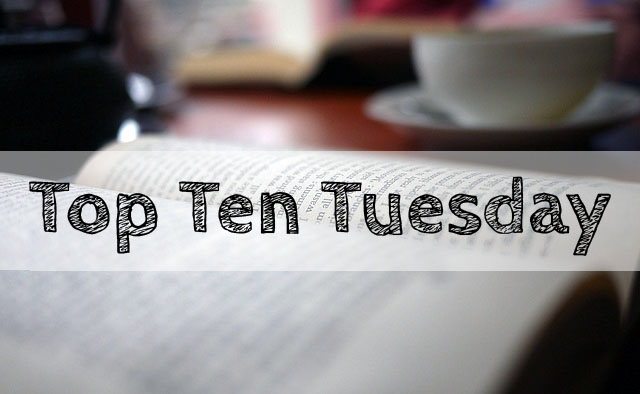 This week's appropriate Top Ten Tuesday concerns authors I'm thankful for.
William Shakespeare: My best moments in the classroom I owe to this writer, who is not only the greatest writer in the English language, but also the most fun to teach. I can return to his plays again and again, and I always get something new out of them. In addition, his sonnets are some of the most glorious poetry in the English language. Don't believe me? Watch this video: http://www.youtube.com/watch?v=3ORccj9HosA
Jane Austen: She is my homegirl. Really. I love her. I return to her books all the time. I love her characters, her sparkling wit, and her tangled love stories.
J. K. Rowling: Some of my best reading experiences have been with the Harry Potter series. If I could read just one series over and over, and no other books, for the rest of my life, I'd choose the Harry Potter series. I find the Wizarding World to be a rich, imaginative place I never tire of visiting.
Emily Brontë: She gave me my favorite book, even though it was the only book she wrote. I love returning to this book. I always notice something new. I love to hate her characters. I marvel each time I read it at the novel's beautiful structure. Though I find the characters horrendous, I admit one place I'd love to visit is Wuthering Heights.
J. R. R. Tolkien: My first major foray into fantasy set the bar really high. I am currently listening to The Hobbit in preparation for the movie. I love reading this series, and I love Middle Earth.
Judy Blume: I read her books over and over again as a child. I grew up on her stories, and she has been a huge influence over my reading and writing life.
Jasper Fforde: I have spent many a happy hour giggling through one of his books. He is crack for book and word nerds, and he is utterly charming.
Joseph Campbell: His enduring ideas and understandings about the hero's journey enabled me to enjoy literature and film in a new way, and I was able to construct a course around his work.
Diana Gabaldon: I love her time travel romance/fantasy/historical fiction/genre-bending stories about Claire and Jamie Fraser. She is so much fun, and such a nice lady, too.
Ernest Hemingway: I love, love, love F. Scott Fitzgerald, but Hemingway has a much larger canon, and I am not done with it yet. I love the way he writes, and I love to read his ideas about writing. I have rarely cried so hard over a book as I did over the end of A Farewell to Arms.
What authors are you thankful for?
Oh, and Happy Thanksgiving! I am so thrilled to be celebrating it this year in the state where the first Thanksgiving took place.