Emma's recent comment on my review of The Annotated Pride and Prejudice inspired this post. I don't own multiple copies of many books, but I do own multiple copies of a few. Perhaps it is telling in terms of my literary interests?
I own two copies of The Curious Incident of the Dog in the Night-Time by Mark Haddon.
The image on the left is the US cover of the novel, and the reason I have a copy of that edition is that I use it to teach the novel. The image on the right, which is my favorite of the two, is the UK edition, which my friend Roger sent me.
I have three editions of Wuthering Heights. It's hard for me to pick a favorite book, but it might be Wuthering Heights. Certainly it's safe to say it's one of my favorites based on the number of copies I own.
I have the Norton Critical Edition for teaching. It includes a variety of lit. crit. articles and reviews. I think it might be most appropriate for college studies, but I use it with my high school students, too. I am not a fan of the Norton typeface, and neither are my students. I especially like Emily Brontë's diary, which is included in this text. The edition to its right is the Barnes and Noble classics series edition. I love the pink cover and the beautiful image on the cover (Weymouth Bay by John Constable). This edition is the first one I read. It is directed at high school students, I think, and it has really good footnotes, a list of famous quotations from the novel (with page references),  Charlotte Brontë's preface to the 1850 edition, an introduction by Daphne Merkin and notes on the Yorkshire dialect by Tatiana M. Holway, and a good family tree in the front. For some inexplicable reason, the Norton edition, which throws in everything but the kitchen sink, does not have a family tree. I don't know how to keep track of the characters in Wuthering Heights without a family tree. The third edition I own is the audiobook as narrated by Janet McTeer and David Timson. Janet McTeer has actually played Nelly Dean before. Both actors do a masterful job with the text, McTeer of course reading the parts narrated by Nelly Dean, and Timson the parts narrated by Lockwood. I have every intention of buying an edition for my Kindle (I am just settling on the right one). *Yes, I bought a Kindle after doing the research on Kindles, Nooks, and iPads, and I will post about it, soon.* I also really want a paper copy of this edition because I'm in love with the cover:
Here is the full image, front and back:
Click on the image to see a larger version. Gorgeous, right?
I also own two editions of Pride and Prejudice: the annotated edition Emma described as her favorite (mine, too), and the Bantam Classics edition, which was the first edition I read.
The cover of The Annotated Pride and Prejudice is actually a drawing of Austen's niece, Fanny Knight. Bantam's cover painting is Miss Rosamond Croker by Sir Thomas Lawrence.
There was a time when I didn't mind mass market paperbacks at all. Over the last few years, I have decided I don't like them much, and I don't know whether to attribute it to older age and failing eyesight or the fact that mass markets crowd too many words on the page, too closely together, which just doesn't make for as pleasant a reading experience as a trade paperback or hardcover. For a mass market, the BN edition of Wuthering Heights is pretty nice, and the words aren't too crowded, but the Bantam edition of P&P—well, the Bantam edition of anything, really—seems more crowded. I actually stopped reading my Bantam edition of Persuasion because it was too hard on my eyes and took up reading the book on Stanza on my iPhone.
I have two editions of Persuasion, too. The Bantam edition I just mentioned and an audiobook version I won from Austenprose. I haven't listened to the audiobook yet, but I am excited to do so. I'm not sure whether Persuasion or Sense and Sensibility is my second favorite Austen novel. Maybe they're tied. Nah. Sense and Sensibility is second. But I do love Persuasion, and I especially love Captain Wentworth's letter. I deleted Persuasion from my iPhone after I finished it to save space. I wouldn't necessarily do that on my Kindle because I only intend to have books on the Kindle, but my iPhone has all my music and tons of other apps, too.
The only other books I own multiple copies of are the Harry Potter series. I have multiple copies of these books for several reasons:
I have read some of them so many times I literally wore them out and had to replace them.
We couldn't share books when they were first released because we all wanted to read them (we have multiple copies of Harry Potter and the Half-Blood Prince and Harry Potter and the Deathly Hallows).
I really wanted the tenth anniversary edition of Harry Potter and the Sorcerer's Stone. I have to say the paper feels very nice, and the cover is gorgeous.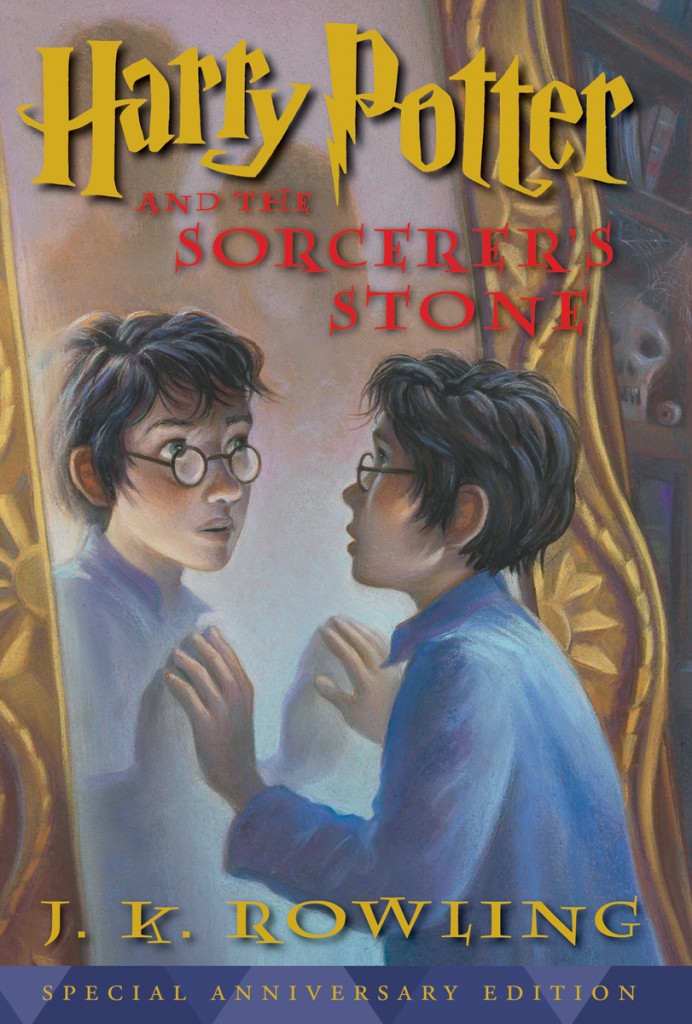 Which books do you own multiple copies of and why? Please share in the comments.