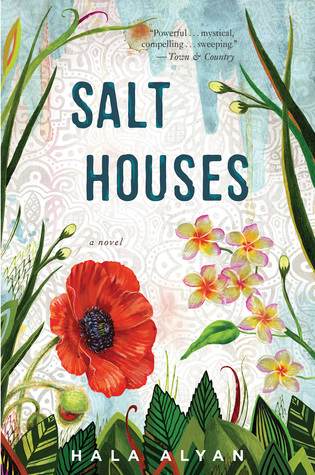 Salt Houses
by
Hala Alyan
Published by
Mariner Books
on June 5, 2018
Genres:
Historical Fiction
Format:
Audio
,
Audiobook
Source:
Library
Buy on Amazon
Goodreads

On the eve of her daughter Alia's wedding, Salma reads the girl's future in a cup of coffee dregs. She sees an unsettled life for Alia and her children; she also sees travel and luck. While she chooses to keep her predictions to herself that day, they will all soon come to pass when the family is uprooted in the wake of the Six-Day War of 1967.

Salma is forced to leave her home in Nablus; Alia's brother gets pulled into a politically militarized world he can't escape; and Alia and her gentle-spirited husband move to Kuwait City, where they reluctantly build a life with their three children. When Saddam Hussein invades Kuwait in 1990, Alia and her family once again lose their home, their land, and their story as they know it, scattering to Beirut, Paris, Boston, and beyond. Soon Alia's children begin families of their own, once again navigating the burdens (and blessings) of assimilation in foreign cities.

Lyrical and heartbreaking, Salt Houses is a remarkable debut novel that challenges and humanizes an age-old conflict we might think we understand—one that asks us to confront that most devastating of all truths: you can't go home again.
This was an excellent book. I highly recommend it to anyone who enjoys a good intergenerational family saga. The book brilliantly explores the cost of war and the trauma of losing a homeland, especially in the quietly heartbreaking ending. It also explores the endurance of people in the face of conflict. Home may be lost, but the family will continue. It's a great addition to the genre of historical fiction exploring what happens to a diaspora. The strength of women and how they hang onto and pass on culture and stories was such an important part of this book as well.
I really enjoyed the characters, who were so well-drawn and fully fleshed that I felt like I knew them. My favorites were probably Riham and Atef, but I really appreciated all of the characters. Alia is the character around which the book turns, and by the end, the reader has met five generations of the family as they have struggled to make a permanent home. I particularly appreciated how strong the women characters were. I think many Westerners have stereotyped notions of what Muslim women in the Middle East are like, and honestly, one of the best ways to dispel stereotypes is to tell our stories.
I also liked the structure of the novel. It was interesting for me to move among different characters and see the family dynamics and history through different family members' eyes. The story begins in Nablus in Palestine in the 1960s in the leadup to the Six Days War and traces the family to the near present in 2014 in Amman, Jordan, which is another element of the structure that I liked. At times, the characters reflect on events in the past, but I didn't find it hard to keep track, even though I was listening to the book instead of reading it in print. The narrator was also excellent, but after listening to the author (see below), I wish she had been able to narrate it. One of Alyan's strengths is her ability to draw a scene. I think my absolute favorite scene in the book was Riham in the water, but Atef's reflections near the novel's end, and Souad's chapter and Lina's chapter were also compelling. I think this is a book I'll be recommending to others.
The author has a fascinating story herself. Check out this story from NPR:
In this TED video, Alyan shares some of her poetry:
If you want to see her visit to Politics and Prose, check out this video, which includes a reading:
I read this book for my August selection for the Book Voyage Challenge—a book set in the Middle East.