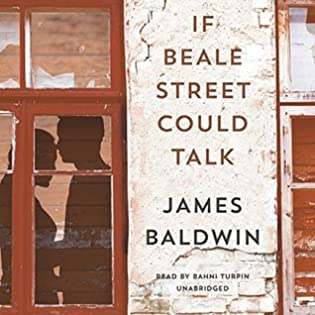 If Beale Street Could Talk
by
James Baldwin
,
Bahni Turpin
Published by
Blackstone Audio
on February 1, 2016
Genres:
Contemporary Fiction
Pages:
8
Format:
Audio
,
Audiobook
Buy on Amazon
Goodreads

In this honest and stunning novel, James Baldwin has given America a moving story of love in the face of injustice. Told through the eyes of Tish, a nineteen-year-old girl, in love with Fonny, a young sculptor who is the father of her child, Baldwin's story mixes the sweet and the sad. Tish and Fonny have pledged to get married, but Fonny is falsely accused of a terrible crime and imprisoned. Their families set out to clear his name, and as they face an uncertain future, the young lovers experience a kaleidoscope of emotions—affection, despair, and hope. In a love story that evokes the blues, where passion and sadness are inevitably intertwined, Baldwin has created two characters so alive and profoundly realized that they are unforgettably ingrained in the American psyche.
There aren't many writers like James Baldwin. He wrote with facility whether fiction, nonfiction, or poetry. I mean, just listen to him speak.
Much of what Baldwin says here is centered in his novel, as his characters wrestle with being cut out of their opportunities to find happiness and achieve their dreams. In fact, one in the novel struck me particularly hard. Fonny refers to a man who assaults Tish as a "white American," implying that the police officer who wanted to arrest Fonny for beating the man did not see Fonny as an American. He saw a Black man, and his guilt or innocence did not matter. I realize that police brutality against Black people has a long history, but it's hard not to see Baldwin as prescient in writing this novel in the early 1970s. He is not speaking only to the moment in which he wrote the novel, but also to our current moment.
My favorite character was Tish's mother, Sharon. I absolutely loved Tish's family. They were so supportive of Tish and Fonny, and Sharon set the tone when she told Tish that she would tell the family about her pregnancy. So many families have not supported their daughters when they became pregnant, let alone when the baby's father is in jail awaiting a trial for a crime he didn't commit. Even before I watched the movie, I understood why Regina King's performance was lauded. Sharon is a gift of a character.
I found the ending a bit confusing, so I listened to it again, and then I still had to read a summary online because I couldn't figure out if what I thought happened at the end was what happened. Ambiguous endings do not trouble me, but this book didn't feel like it ended. It felt like it stopped. I suppose a good comparison would be the fade to black at the end of the last episode of The Sopranos. The book also moves backward and forward in time, and it was sometimes a bit difficult to follow. Admittedly, this could have been my fault for listening to it rather than reading it. However, there are some beautiful moments in the book as well, and Baldwin's characterization is realistic and engaging. His characters just seem like people you might know—they are intensely human.
I was able to find the film on Hulu and watched it so I could add my thoughts about the film to this review. The acting is incredible. Stephan Jones and Kiki Layne are perfect as Fonny and Tish. As I mentioned before, Regina King deserves all the praise for her performance, too. The entire ensemble cast was great. The film's ending is a bit different, and I might argue that the film's ending is an improvement. For one thing, it was a bit clearer, and it also ended on a note of hope. I understand Baldwin wanted to communicate something with the ending he wrote, and it's such a beautiful love story that as a reader, I really wanted to have a little bit of hope at the end for the characters. One touch I really appreciated was a simple dedication to "Jimmy"—James Baldwin's nickname among friends. The movie also helped me understand the book's title. My audiobook didn't have the explanation, but the film had some text at the beginning, and since I don't have a paper copy of the book, I can't verify this, but I think it was James Baldwin's introduction to the story, explaining the name. I expected it to be set in Memphis rather than New York and was initially confused. I also loved the film's score. It's haunting and perfect. I definitely want to see other films by this director after watching If Beale Street Could Talk.
Bahni Turpin is an excellent narrator. I have listened to her read other books, and I appreciate her approach to the material. I highly recommend the audio version of this book, but you might want to read along to better keep track of the story.
One last treat before I close: Ikechúkwú Onyewuenyi, a Hammer Museum curator, created the ultimate James Baldwin playlist. You just might find some blues in there.