Last night, Sarah, Maggie, and I arrived at 6:30 for Stephenie Meyer's 7:00 Q&A and book signing. I overheard one of the employees tell an elderly man who was looking for someone that there were over 2000 people at the signing. When the employees were ready for the crowd to get in line, a male employee on the microphone said "When I tell you, I want you to turn around and move back… Sort of like an army… An army of teenaged girls." And boy were there a lot of teenaged girls! Some boys and grown women too, most of them accompanying teenaged girls. Lots of girls had made shirts for the occasion, and they were all so creative! I wish I had been able to get more pictures of the shirts. We waited in line for over two hours for Sarah to get her books signed.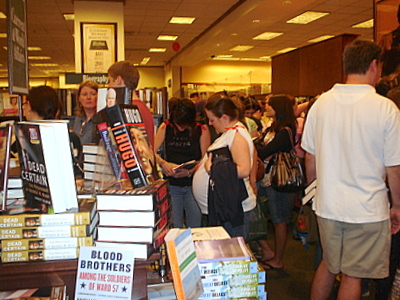 This pregnant woman was really cute. Her tee-shirt had an arrow pointing toward her belly that said "Edward Cullen, Jr." Edward Cullen is the romantic male lead of Twilight.
This is Sarah holding her copies of Twilight, New Moon, and Eclipse to be signed.
Maggie was so good and so patient. She wanted to go, and she didn't really understand what the fuss was, but she was suitably impressed by the fact that she was in the vicinity of a writer, and she caught the eye of a policeman, who smiled at her.
There were actually quite a few copies of the audiobooks for sale, too.
We were about 10-15 minutes from the front of the line when I snapped this photo.
At last! Sarah gets her books signed by Stephenie Meyer. This is as close as I was allowed to get with a camera. The ladies on the left were very friendly fans in their early 20's who chatted with us as we waited in line. Ms. Meyer looked very tired already at this point, and I estimate we were in the latter part of halfway through the line. I would imagine she signed until 11:00.
The books along the back are all copies of Eclipse.
What the pictures don't capture is the virtual sea of red, white, and black in the crowd — the colors on Stephenie Meyer's book covers — and the loudness of all those excited girls. They kept screaming! One would have thought a rock star was in the building! Frankly, it made me tear up — the fact that kids were excited about an author and her books. I'm such an English teacher geek.
Update, 4/16/09: Comments on this post are now closed.
Update, 6/30/09: I am not affiliated with Stephenie Meyer. I went to a book signing a few years ago as I described in this post, but this is my personal blog and is not associated in any way with Ms. Meyer. I do not know when and where she will sign books. I repeat, I do not know when and where she will sign books. I suggest you check out her own Web site for that sort of information. Any contact I receive regarding Ms. Meyer's book signing activities will be ignored.
[tags]stephenie meyer, twilight, new moon, eclipse[/tags]