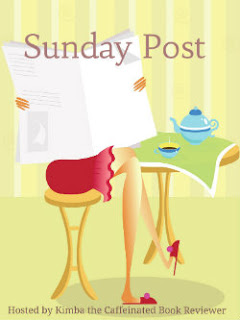 My spring break started this weekend. More time to read! I didn't have a lot of time to read this week, so unfortunately, I didn't make a whole lot of progress to report about.
In my last post, I reported I was about an hour away from finishing Neil Gaiman's short story collection Trigger Warning. I still am. I haven't had a chance to listen to it at all this week. I also haven't picked up Marie Antoinette: The Journey by Antonia Fraser in the last week. However, I did start Candide by Voltaire for the Literary Movement Reading Challenge. Well, I read the introduction, at least.
Mainly, I have been reading The Lotus Eaters by Tatjana Soli. Fantastic so far. I find sometimes I have to put it down for a while almost because it's too much sensory input. I am not sure if that makes sense, but the descriptions are so vivid, and given it's a book about Vietnam War photojournalists, it's quite intense. I have always felt sort of a weird connection with that war, as though it somehow defined the world in which I grew up. I guess it did. My dad was serving in Vietnam when I was born, and in many ways, it didn't seem over. I remember the Vietnam vets and the controversy over the Vietnam Memorial. It was as I was growing up that artistic media like movies and TV seemed to be exploring the war for the first time. The book is so fantastic that I really wish I had a book club to discuss it with. I wonder if I can convince my book club to read it. I did talk them into reading Wolf Hall, and I'm not sure I get two turns in a row, or that folks will want to read two historical fiction novels in a row. The Lotus Eaters is reminding me a lot of Hemingway—not so much stylistically, but perhaps the poetic way in which Soli describes war. If any characters might see poetry in that situation, it might be combat photographers. I don't know.
The journalists were in a questionable fraternity while out in the field, squabbling and arguing among themselves, each sensing the unease of the situation. No getting around the ghoulishness of pouncing on tragedy with hungry eyes, snatching it away, glorying in its taking even among the most sympathetic: "I got an incredible shot of a dead soldier/woman/child. A real tearjerker." Afterward, film shot, they sat on the returning plane with a kind of postcoital shame, turning away from each other.

In terms of the present moment, they were despicable to the soldiers, to the victims, to even themselves. In the face of real tragedy, they were unreal, vultures; they were all about getting product. In their worst moments, each of them feared being a kind of macabre Hollywood, and it was only in terms of the future that they regained their dignity, became dubious heroes. The moment ended, about to be lost, but the one who captured it on film gave both subject and photographer a kind of disposable immortality. (111)

Pictures could not be accessories to the story—evidence—they had to contain the story within the frame; the best picture contained a whole war within one frame. (118)
Exquisite.
So that was my reading week. How was yours?
The Sunday Post is a weekly meme hosted by Caffeinated Book Reviewer. It's a chance to share news, recap the past week on your blog, and showcase books and things we have received. See rules here: Sunday Post Meme.