I recently learned there is a scientific reason why baking makes me feel good. I started baking bread probably about two and a half years ago. I was always kind of intimidated by bread because it seemed fiddly and hard. Cookies? No problem, I can throw that together. Muffins? No big deal. Cakes? A little harder, and they're not going to be pretty, but I can make one that tastes good just the same. I tried bread a few times, mostly using recipes out of my general cookbooks like the old standby, The Better Homes and Gardens Cook Book. I think that was part of the problem. Baking bread well probably requires a special focus; I have learned so much more about doing it right from bread- or baking-focused cookbooks.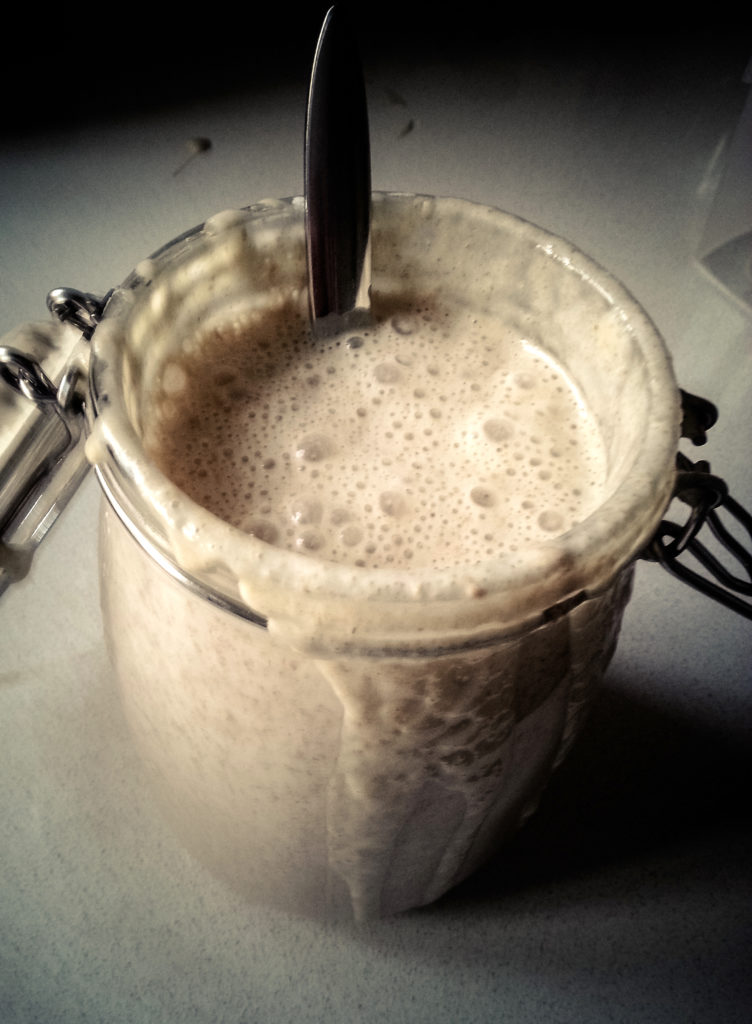 I made my own sourdough starter in that week between Christmas and New Year's Day of 2017, so it's over two years old and still going strong. I've used it to make a few loaves of sourdough and some really fantastic waffles. Making a starter isn't that hard. King Arthur has good instructions, and I used them to make my own, but there are other great instructions elsewhere. It's not even that hard to keep it going. You can refrigerate and feed it once a week, but even if you let it slide for a while, you can generally rescue it.
This might seem strange, but baking bread makes me feel connected to the past. It's like making soap, which I also do (though not in a good long while). It's something I'm sure my ancestors had to do out of necessity. A nice round loaf of sourdough bread is probably something that anyone living 200 or 300 years ago would recognize.
I love everything about baking bread. I love the smell of the dough. I love bread dough's elastic stretchiness. I love the science of bread—how leavening works, seemingly by magic. I love how it's simple and complicated all at once.
I even love failing at it. I have been trying to make brioche, for example, and as of yet, I haven't been able to get it right. The fat and sugar content in brioche makes it an interesting challenge I'm determined to figure out.
Of course, I love eating the results. I've made everything from simple peasant loaves to baguettes to yeasty rolls to soda bread. I love a good, crusty loaf of bread. I don't think it's a food I could give up, so I'm grateful that I don't have any gluten intolerance.
The last week or so has been really challenging. It's scary to think of how our lives will change. But it's also a perfect time to try baking bread if you haven't tried it before.
I got started with Alexandra Stafford's Bread Toast Crumbs. Stafford has a simple peasant bread recipe that's fairly foolproof. Her Oatmeal Maple bread became a favorite around the Huff household. I tried out Jim Lahey's My Bread and The Sullivan Street Bakery Cookbook with my own sourdough starter and good results. Jim's biga is a bit easier to work with than straight sourdough starter. In fact, I'm refreshing some starter in the kitchen right now as I write that I will turn into biga once it's active. I am reading Martin Philip's Breaking Bread: A Baker's Journey Home in 75 Recipes and Chad Robertson's Tartine Bread right now. I discovered Stella Culinary's podcast series on bread and have been listening while washing the dishes. Here is the first episode:
I'll embed the other episodes at the end of this post, and you can subscribe to Stella Culinary's podcast on your own as well. Steve sent me Eliza McGraw's article about going to bread camp and all the baking she's doing to cope with being stuck inside.
Baking bread has been a welcome diversion for me. So far, I've made Paul Hollywood's sourdough and concluded that with that recipe, it's not me, it's him. It's perfectly serviceable, and I'm eating it, but I prefer the crusty boules full of holes I have produced using Jim Lahey's methods. I also made Irish soda bread with currants yesterday for St. Patrick's Day.
If you're looking for something to do while you're working from home, why not try making your own starter and trying out some sourdough? King Arthur Flour has some great resources for getting started.
By the way, binge-watching The Great British Baking Show will do your heart good right now. It's on Netflix, if you have it. Let's get our own bakeoff going!