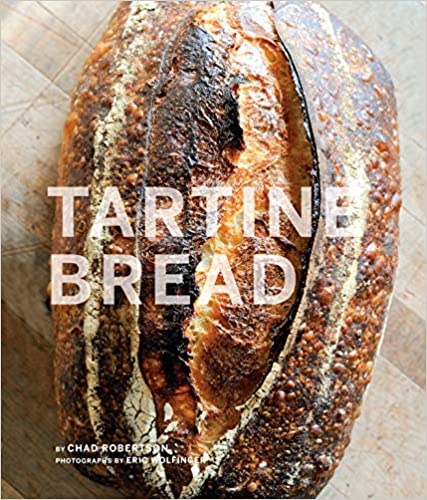 Tartine Bread
by
Chad Robertson
,
Eric Wolfinger
Published by
Chronicle Books (CA)
on October 29, 2013
Genres:
Cooking
Pages:
304
Format:
E-Book
Buy on Amazon
Goodreads

For the home or professional bread-maker, this is the book. It comes from a man many consider to be the best bread baker in the United States: Chad Robertson, co-owner of Tartine Bakery in San Francisco, a city that knows its bread. To Chad, bread is the foundation of a meal, the center of daily life, and each loaf tells the story of the baker who shaped it. He developed his unique bread over two decades of apprenticeship with the finest artisan bakers in France and the United States, as well as experimentation in his own ovens. Readers will be astonished at how elemental it is. A hundred photographs from years of testing, teaching, and recipe development provide step-by-step inspiration, while additional recipes provide inspiration for using up every delicious morsel.
If you've been reading this blog for a while, you might recall I've been learning how to bake bread for a few years now. I struggle to find time to bake sourdough bread because it has such a long rise. During the week, it's just not really possible because of work. If I want to bake on the weekend, I need to plan in advance so that I can get my starter active again. I recently read Michael Pollan's book Cooked, and it reminded me that I still hadn't finished Chad Robertson's Tartine Bread. Pollan learns to bake sourdough from Robertson and documents his experience in that book. I have read quite a few books about baking sourdough, and my results have been sort of mixed. I decided to give Tartine Bread a try because I had heard that Robertson's recipe and technique were good.
The selling point of Jim Lahey's recipe and technique is that it is a no-knead recipe, and you can let it rise overnight. I kind of liked what I saw in Ken Forkish's book, but it didn't wow me. I thought it was me, and partly it was. It took me a while to figure out how you could tell your starter was active. I really like Chad Robertson's helpful technique of dropping a bit into some water to see if it floats. If it does, it's active. If it sinks, wait longer. I believe that Ken Forkish shared that tip in his book as well. Of the sourdough recipes I've tried, I think I liked Paul Hollywood's recipe the least. I didn't have good results with it. I figured I'd see what happened with Robertson's recipe, and I was not disappointed.
I tried Robertson's recipe and technique as written and made some beautiful loaves of sourdough.
I halved the recipe so as to make just one loaf, and I've had a chance to bake twice using the halved recipe. I was initially afraid the salt amount was too much, but the bread doesn't taste salty. The folding technique is easy to master once you've tried it a few times. The bread has a perfect crust. I baked Jim Lahey's recipe as written and found the crust way too hard and dark for my liking. The kids wouldn't eat it either. In fact, this recipe marks the first time they've eaten the sourdough bread I made (I know; they're weird).
I did not make a starter using Robertson's technique. I have had a starter going (in the fridge, for the most part) since late 2017, and I didn't see any reason to make a fresh starter. I'm glad I didn't worry about it because I don't think I needed to. I tried the recipe with a bottle of spring water and then with water from the Brita pitcher and noticed no difference, so I think Robertson is right that the water doesn't matter. He argues that the flour does, and I think he gets his from a local mill. I used King Arthur, which has been my go-to for a number of years now—pretty much since I moved to New England, though I clung to White Lily when I could find it for a little while. If you're curious, I used King Arthur's directions to make my starter. Robertson's recipe calls for whole wheat flour, but what I had on hand is King Arthur's sprouted whole wheat, which has a slightly milder flavor. I am convinced that the small amount of whole wheat flour is what separates Robertson's recipe from the rest. It's not really enough whole wheat flour to taste like wheat bread, necessarily, but I think it adds a flavor that white flour alone doesn't have. I will definitely have to try Robertson's recipe with regular whole wheat flour when I run out of the sprouted whole wheat.
I think if you get this book, you will probably get it for the main country bread recipe. I'm sure some of the others are good, but I haven't tried them yet. Some of the recipes aside from the main recipe for country bread, as Robertson calls it, strike me as a bit different… and complicated, too, but we did try the French toast, which was probably the best French toast we've ever had. It smelled amazing as it was baking, too.
I highly recommend this book to anyone looking to try sourdough baking. This is hands-down the best recipe I've tried so far, and my results using Robertson's recipe and technique have been the best out of the sourdough recipes I've tried, too. Honestly, I thought the country bread recipe alone made the book worth it.