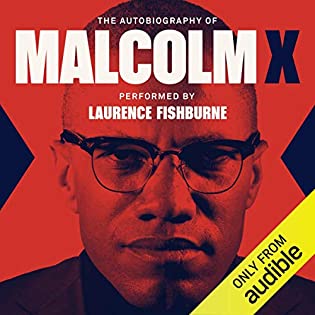 The Autobiography of Malcolm X: As Told to Alex Haley
by
Malcolm X
Published by
Audible Studios
on September 10, 2020
Genres:
Biography
,
Memoir
Format:
Audio
,
Audiobook
Source:
Audible
Buy on Amazon
Goodreads

One of Time's 10 most important nonfiction books of the 20th century.
Experience a bold take on this classic autobiography as it's performed by Oscar-nominated Laurence Fishburne.

In this searing classic autobiography, originally published in 1965, Malcolm X, the Muslim leader, firebrand, and Black empowerment activist, tells the extraordinary story of his life and the growth of the Human Rights movement. His fascinating perspective on the lies and limitations of the American dream and the inherent racism in a society that denies its non-White citizens the opportunity to dream, gives extraordinary insight into the most urgent issues of our own time.

The Autobiography of Malcolm X stands as the definitive statement of a movement and a man whose work was never completed but whose message is timeless. It is essential for anyone who wants to understand the African American experience and America as a whole.

©1965 Alex Haley and Malcolm X, © 1965 by Alex Haley and Betty Shabazz (P)2020 Audible, Inc.
The Autobiography of Malcolm X is a book I had been meaning for years—perhaps as long as a decade. I admit I was a bit daunted by the length, and I had only seen the mass-market paperback version with tiny print. I can't really read mass-market paperbacks anymore. I'm sure there were other, more accessible versions available, but for whatever reason, I never crossed paths with one. I was thrilled to discover this new audio recording narrated by actor Laurence Fishburne.
Malcolm X led a fascinating life. I was really intrigued by his stint in prison and the education he was able to obtain while incarcerated (check out this list of books he mentions he read while in prison). He clearly repudiated his life before prison in the book, in spite of the fact that one might argue that Malcolm X had been dealt a particularly difficult hand: not only was he essentially an orphan as a teenager when his father was killed and his mother was hospitalized, but he was also brought up in a racist society that devalued his intellect and talents. He describes telling a middle school teacher that he wanted to be a lawyer when he grew up only to be discouraged from pursuing that career by this racist teacher who insisted, "you've got to be realistic about being a n—–. A lawyer—that's no realistic goal for a n—–." This from a teacher Malcolm X admired, too. Honestly, after reading this book, the first thing I thought is that Malcolm X would have made an excellent lawyer. He knew how to craft an argument, and he had a fairly stunning intellect.
One area where I would push back against Malcolm X is his misogynoir. That might not be the right term. I don't think he hated women. I don't think he respected them very much, either, however, and he definitely viewed them as inferior. One might point to his religion, but I'm not sure it's entirely related to Islam because he seemed to feel that way before he converted as well (and Islam is not the only patriarchal religion—I hear many of the same anti-woman ideas from many corners). It does not follow that just because one knows and understands what it is like to be part of an oppressed group that one naturally empathizes with other oppressed groups, and I would argue this is true of Malcolm X. The most troubling argument he makes is that societies crumble when their women have what he'd describe as loose morals. He describes a case study of "Westernized" women in Lebanon versus women in Saudi Arabia (whom he deemed more properly in their place), and he makes a pretty poor case if you ask me.
It was disheartening to read of Malcolm X's betrayal by the Nation of Islam, an organization he had done so much to promote. It was also chilling to read Malcolm X's insistence that he expected to die by violence. One thing that struck me especially hard was that Malcolm X and my grandfather were born in the same month and year. You couldn't have identified two more different people if you had tried. Their lives and experiences in society couldn't have been further apart. Perhaps my favorite passage of the Autobiography was Malcolm X's description of improving his reading comprehension by copying out the dictionary.
I saw that the best thing I could do was get hold of a dictionary—to study, to learn some words. I was lucky enough to reason also that I should try to improve my penmanship. It was sad. I couldn't even write in a straight line. It was both ideas together that moved me to request a dictionary along with some tablets and pencils from the Norfolk Prison Colony school.
I spent two days just riffling uncertainly through the dictionary's pages. I'd never realized so many words existed! I didn't know which words I needed to learn. Finally, just to start some kind of action, I began copying.
In my slow, painstaking, ragged handwriting, I copied into my tablet everything printed on that first page, down to the punctuation marks.
I believe it took me a day. Then, aloud, I read back, to myself, everything I'd written on the tablet. Over and over, aloud, to myself, I read my own handwriting.
I woke up the next morning, thinking about those words—immensely proud to realize that not only had I written so much at one time, but I'd written words that I never knew were in the world. Moreover, with a little effort, I also could remember what many of these words meant. I reviewed the words whose meanings I didn't remember. Funny thing, from the dictionary first page right now, that "aardvark" springs to my mind. The dictionary had a picture of it, a long-tailed, long-eared, burrowing African mammal, which lives off termites caught by sticking out its tongue as an anteater does for ants.
I was so fascinated that I went on—I copied the dictionary's next page. And the same experience came when I studied that. With every succeeding page, I also learned of people and places and events from history. Actually the dictionary is like a miniature encyclopedia. Finally the dictionary's A section had filled a whole tablet—and I went on into the B's. That was the way I started copying what eventually became the entire dictionary. It went a lot faster after so much practice helped me to pick up handwriting speed. Between what I wrote in my tablet, and writing letters, during the rest of my time in prison I would guess I wrote a million words.
Malcolm X's ideas have been so widely influential. Modern anti-racist, anti-bias movements owe much to Malcolm X's thought. I have heard so much about Malcolm X, much of it controversial, fear-mongering lies, unfortunately, and I felt it was important to read his story for myself. For example, many people believe Malcolm X to be biased against White people, and while this was true (and not without good cause, I might add), he later changed these views after experiencing the Hajj and meeting fellow Muslim pilgrims who were White. He viewed Islam as a unifying force. Malcolm X wrestled honestly with his life in this memoir. This is an important book that I think many people should read in order to better understand our American society.