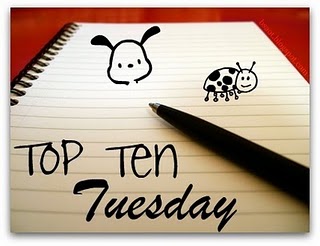 This week's Top Ten Tuesday topic is the top ten underrated books. I elected to choose just books I've read and absolutely loved, but don't hear much about from others, whether book bloggers, Goodreads users, or just the general populace. I don't understand why these books aren't more popular than they are.
[amazon_link id="0060515139″ target="_blank" ]A Plague of Doves[/amazon_link] by Louise Erdrich (review). This multigenerational epic is one of the best books I've ever read, but it's not the first book anyone thinks of when they think of Erdrich. It's a beautiful book and would be great for book clubs. I don't know that many people who've read it, though.
[amazon_link id="1400096057″ target="_blank" ]The Commoner[/amazon_link] by John Burnham Schwartz (review). This novel is based on current Japanese imperial family. It's an interesting look at this traditional if widely ceremonial institution. I wouldn't have ordinarily read it, but it was mentioned on one of my favorite GPB radio programs, which convinced me to try it. Really good book, but no one I know has read it.
[amazon_link id="014241557X" target="_blank" ]Wintergirls[/amazon_link] by Laurie Halse Anderson (review). I think this novel is eclipsed by [amazon_link id="0142414735″ target="_blank" ]Speak[/amazon_link], which is phenomenal, but I truly learned a lot about eating disorders from this other, lesser-known novel of Anderson's.
[amazon_link id="193659451X" target="_blank" ]Persuasion[/amazon_link] by Jane Austen (review). Most people think of [amazon_link id="184317569X" target="_blank" ]Pride and Prejudice[/amazon_link], [amazon_link id="1843175703″ target="_blank" ]Sense and Sensibility[/amazon_link], or even [amazon_link id="0062085654″ target="_blank" ]Emma[/amazon_link] before they think of Austen's last work, but it's my personal favorite. I love Anne Elliot's steadfastness and good sense, the naval officers, the Cobb where Louisa Musgrove fell, Bath, all of it. What a tightly written, fantastic book.
[amazon_link id="0385739893″ target="_blank" ]Tiger Eyes[/amazon_link] by Judy Blume. We hear a lot about her other classics, like [amazon_link id="0440904196″ target="_blank" ]Are You There God? It's Me, Margaret[/amazon_link], the [amazon_link id="0142409065″ target="_blank" ]Fudge series[/amazon_link], maybe even somewhat scandalous books like [amazon_link id="0385739850″ target="_blank" ]Deenie[/amazon_link] or [amazon_link id="1416934006″ target="_blank" ]Forever[/amazon_link], but sometimes I think people forgot about Tiger Eyes. It's my favorite Judy Blume book, and I read pretty much all of them published up through the early-to-mid '80's. I was a huge fan of hers. I just loved the heroine and the setting. So many YA books in my youth were set in New York. I started to wonder if YA authors realized people lived other places. Davey lived in Atlantic City, New Jersey, but most of the book takes place in Los Alamos, New Mexico, where her aunt and uncle live. As a kid living in Colorado, it was nice to read about a state closer to home, with physical attributes (such as mountains) more like my own home.
[amazon_link id="1250000939″ target="_blank" ]The Prydain Chronicles[/amazon_link] by Lloyd Alexander. Do kids read these books anymore? I loved them. They might have suffered from a [amazon_link id="B003RACGZM" target="_blank" ]really poor Disney adaptation[/amazon_link]. They are such good books, though. You just never hear about them anymore. My fourth grade teacher read us [amazon_link id="0805080481″ target="_blank" ]The Book of Three[/amazon_link], and I remember her telling us that just because there was a guy with a skull for a head with antlers sprouting from his, well, skull, that we girls should not be put off because it was a really good book. I was skeptical, but I gave it a shot and immediately had to read the next book in the series, which might be even better than the first. I even liked the one book in the series that my teacher said wasn't as good as the others.
[amazon_link id="014029628X" target="_blank" ]Girl in Hyacinth Blue[/amazon_link] by Susan Vreeland (review). Perhaps because it is one of her earlier books, it doesn't seem to have gained the same sort of traction as, say, [amazon_link id="1400068169″ target="_blank" ]Clara and Mr. Tiffany[/amazon_link]. I have a real love for this book, which begins with a novel concept: tracing the ownership of a painting from the current day back to its moment of creation. Plus, Vreeland introduced me to the artwork of Vermeer before I read [amazon_link id="0452287022″ target="_blank" ]Girl with a Pearl Earring[/amazon_link] by Tracy Chevalier.
Arthur Phillips's [amazon_link id="0812972597″ target="_blank" ]The Egyptologist[/amazon_link] (review). Sometimes I think I am the only person who liked this book, but it's chock full of some black humor that I thought was hysterical. I loved the ending, especially, which was so comically horrible I didn't know whether to feel bad I thought it was funny, or feel good that the antihero had his comeuppance. It's hard to feel good because of a certain major twist that makes you feel sorry for him, but still.
[amazon_link id="0385737645″ target="_blank" ]Revolution[/amazon_link] by Jennifer Donnelly (review). How come everyone isn't reading this one? It's been my favorite read of the year, and I never see anything about it anywhere, even from people who read more YA than I do. It's such a great book.
[amazon_link id="0807114103″ target="_blank" ]I Am One of You Forever[/amazon_link] by Fred Chappell. OK, granted, this one is published on a small press, and I would never have heard of it if I hadn't been required to read it for Southern Literature in college, but it's an amazing book, especially if you like magical realism and Southern literature. I have described as a book that drilled a hole right through my heart when I read it.
What about you? What books do you think are underrated?