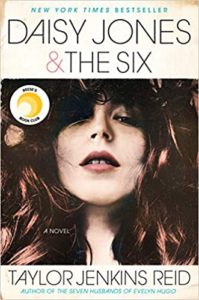 Daisy Jones & The Six
by
Taylor Jenkins Reid
Published by
Ballantine Books
on February 4, 2020
Genres:
Historical Fiction
Pages:
384
Format:
Paperback
Buy on Amazon
Goodreads

Everyone knows Daisy Jones & The Six: The band's album Aurora came to define the rock 'n' roll era of the late seventies, and an entire generation of girls wanted to grow up to be Daisy. But no one knows the reason behind the group's split on the night of their final concert at Chicago Stadium on July 12, 1979 . . . until now.

Daisy is a girl coming of age in L.A. in the late sixties, sneaking into clubs on the Sunset Strip, sleeping with rock stars, and dreaming of singing at the Whisky a Go Go. The sex and drugs are thrilling, but it's the rock 'n' roll she loves most. By the time she's twenty, her voice is getting noticed, and she has the kind of heedless beauty that makes people do crazy things.

Also getting noticed is The Six, a band led by the brooding Billy Dunne. On the eve of their first tour, his girlfriend Camila finds out she's pregnant, and with the pressure of impending fatherhood and fame, Billy goes a little wild on the road.

Daisy and Billy cross paths when a producer realizes that the key to supercharged success is to put the two together. What happens next will become the stuff of legend.

The making of that legend is chronicled in this riveting and unforgettable novel, written as an oral history of one of the biggest bands of the seventies. Taylor Jenkins Reid is a talented writer who takes her work to a new level with Daisy Jones & The Six, brilliantly capturing a place and time in an utterly distinctive voice.
I have been having a lot of trouble reading, and as it turns out, that's completely normal during a global pandemic. I had started a few books, but I didn't get too far into them (although I'm doing better with audiobooks as I find them less taxing). It finally dawned on me that the topics I was picking were too heavy and not escapist enough. What I really needed to do was immerse myself in a different world and time with something "light" (not necessarily in terms of subject matter, but definitely in terms of complexity). Daisy Jones & The Six by Taylor Jenkins Reid came to my rescue.
The main reason I responded to this book is that I spent a good chunk of my high-school and college years immersed in 1960s and 1970s music—especially 1970s music. On my heavy rotation at that time were Led Zeppelin, the Rolling Stones (particularly Mick Taylor-era Stones, which is the BEST Stones), the Beatles, Tom Petty and the Heartbreakers, the Pretenders (more 1980s, but their late 1970s-very early 1980s stuff is my favorite), the Who, Elton John, Rod Stewart (actually, just Every Picture Tells a Story), and the Allman Brothers Band. I grew up listening to Fleetwood Mac, too, because my parents were fans. When Stevie Nicks released her album Bella Donna, I remember picking up my parents' copy and staring at the vinyl sleeve, thinking that Stevie Nicks was possibly the coolest woman I had ever seen.
I thought the way she dressed was magic. Her heels were impossibly high, and everything she wore simply billowed and floated. I definitely tried to dress up like her in my room with the door closed and dance in front of the mirror. The first full album I got on vinyl was Fleetwood Mac's album Mirage. It wasn't the first album I bought on my own, but it was the first full album I received as a gift, and I had asked for it for Christmas. I was in fifth grade. I had no clue about all the romantic intrigue and substance abuse Fleetwood Mac (or perhaps, more particularly, Stevie Nicks) were involved in when I was that young. All I knew is I liked them, and I always have. I named my oldest daughter after their song "Sara," though I added the "h."
It's clear, and Reid doesn't deny it, that Fleetwood Mac was a major inspiration for Daisy Jones & The Six; however, the novel captures more than a veiled retelling of the story of the making of Rumours. It's really the story of the whole Laurel Canyon sound, the Southern California music produced by the likes of the Eagles, CSN, Joni Mitchell, and so many others. I have read and watched so many rock documentaries that reading this book was almost like an Easter egg hunt: which artist's story inspired THIS incident? A good example is Daisy Jones and Billy Dunne communicating through their performance. If you watch this version of the Fleetwood Mac song "Silver Springs," especially if you know that Lindsey Buckingham not only contributed some great guitar parts to the song (Spotify link), a post-mortem of Stevie Nicks's and Lindsey Buckingham's breakup, but he also fought to have it removed from Rumours. It was released as a B-side to "Go Your Own Way," Buckingham's own response to their breakup. "Silver Springs" didn't really receive its due until this recording for The Dance in 1997. You tell me Stevie Nicks and Lindsey Buckingham aren't working through some stuff during the climax of this song:
There are moments when Reid describes Daisy and Billy's chemistry in the same way. Don't you wonder why Buckingham put so much work into that guitar part only to insist the song be practically buried for nearly 20 years? What about the fact that Nicks had to sing backup on "Go Your Own Way," knowing it was about her and feeling what he claimed in the lyrics was untrue: "Packing up / Shacking up is all you want to do"? Honestly? They're STILL feuding. Buckingham claims that Nicks had him fired from Fleetwood Mac in 2018. I personally believe that he's one of the greatest and most underrated guitarists—no one tends to think of him when compiling their listicles. Rolling Stone ranked him 100 out of their 100 Greatest Guitarists. I have many problems with their ranking; this is only one of them.
Some of the sniping, particularly on the part of Eddie, recollects the relationships among members of the Eagles (they did call their reunion concert "Hell Freezes Over") and, to a certain extent, Styx (if you have seen that episode of Behind the Music—wow—Dennis DeYoung and Tommy Shaw hate each other). Even more modern groups like the Civil Wars and perhaps the Black Crowes inspired Reid. I haven't seen Reid mention Chris and Rich Robinson in interviews, but they do remind me of Billy and Graham Dunne. Daisy Jones may owe a little bit to Janis Joplin and Bette Midler's character in The Rose, too.
Knowing these stories was part of the fun of reading it for me, but I think folks who don't have knowledge of the Southern California music scene in the 1970s could still enjoy this book. The book captures the scene so well that no previous knowledge is needed. I particularly enjoyed the passages describing photography for the band's album cover and the final concert and drama in the hotel. I also think Reid's documentary format worked well. I have heard the audiobook is great. I am looking forward to the miniseries that is set to air through Amazon's streaming service. I have seen some reviews that didn't like that format, and others who quibble with the notion that the band is fictional, which requires more imagination when they are discussing their music, but I didn't mind. In fact, I liked that aspect of the book.
The publisher made a playlist on Spotify which is really good, though the last song doesn't work for me. There is a mix of more modern music that seems to fit the mood of the book. I'm thinking about making my own playlist with strictly 1970s tunes, but here is what Random House came up with: