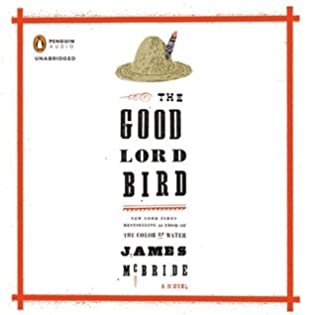 The Good Lord Bird
by
James McBride
Published by
Penguin Audio
on August 20, 2013
Genres:
Historical Fiction
Format:
Audio
,
Audiobook
Source:
Library
Buy on Amazon
Goodreads

Henry Shackleford is a young slave living in the Kansas Territory in 1857; the region is a battleground between anti- and pro-slavery forces. When John Brown, the legendary abolitionist, arrives in the area, an argument between Brown and Henry s master quickly turns violent. Henry is forced to leave town with Brown, who believes he is a girl.

Over the ensuing months, Henry, whom Brown nicknames Little Onion, conceals his true identity as he struggles to stay alive. Eventually, Little Onion finds himself with Brown at the historic raid on Harpers Ferry in 1859, which was one of the major catalysts for the Civil War.

An absorbing mixture of history and imagination, and told with McBride s meticulous eye for detail and character, THE GOOD LORD BIRD is both a rousing adventure and a moving exploration of identity and survival.
I absolutely loved this book, and I think listening to the audiobook was a major reason why. Michael Boatman's narration is excellent. I loved his characterization of John Brown and Owen Brown in particular. In style, this book reminded me a great deal of Mark Twain, particularly Huckleberry Finn. McBride's portrayal of John Brown is sympathetic yet realistic. Through the voice of his narrator, Henry, we have a full picture of a complicated man: a religious zealot called by God to end slavery and a man who truly believed all people are equal. I honestly haven't read enough about the real John Brown to know if the characterization is completely accurate, but it definitely rings true.
I love it when historical fiction asks me to research, too, and this book had me checking out other sources so I could learn about John Brown. Confederate President Jefferson Davis once said that what he feared was "thousands of John Browns." It's interesting to ask what might have happened had John Brown not conducted his raid on Harper's Ferry or engaged in the skirmishes in Bleeding Kansas. Would the war have happened later? Would the South have organized in the face of ardent abolitionism? In any case, it's difficult for me not to admire his dedication to the cause of freedom for African Americans at a time when that was not just unpopular but illegal. His tactics were violent, but it's probably true that nonviolent protest would have accomplished nothing. After all, it took a bloody war to resolve the question of slavery, and the question of racism is still open.
I appreciated McBride's invention of Henry as a narrator. He offered an opportunity to interpret John Brown's actions through the lens of one of the enslaved people Brown was attempting to free and also to offer an outside perspective that is both sympathetic and critical of Brown. This balance makes it easier for McBride to draw a more complex picture of Brown and his followers than if he had chosen a narrator from among them or even a further outsider.
There is a chunk of the story in the middle when Henry is separated from Brown that I didn't find as enjoyable. During this section, Henry is working in a hotel/whorehouse and falls in love with one of the prostitutes. However, he is disguising himself as a girl, so it's complicated. I'm wondering now, as I finished the book, if that section added to the story or not. I suppose it depends on whether the reader sees this as a story of John Brown or a story of Henry Shackleford. I tend toward the former, and I will admit that part of the book slowed down the story's momentum a bit for me, but not enough for me to dock any stars.
One literary aspect I appreciated was McBride's clever use of motifs. For example, on several occasions, Brown wants to stop and pray when the group is in danger, and his son Owen is often the one to tell him to wrap it up so they can get out of danger. Another example is Brown's directive to Henry to "hive the bees," or try to rouse support for Brown's cause among the Black population. He brings both motifs back touchingly at the end of the novel. We know how John Brown's story ends, but McBride managed to make it satisfying and true to the characters he created. The first thing I did upon finishing this book is to check out Deacon King Kong, another of McBride's novels. I wanted more. I can't wait to watch the film!