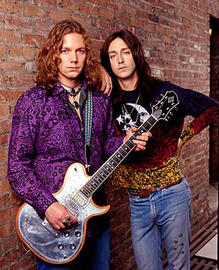 I have been a fan of the Black Crowes ever since their commercial debut, Shake Your Money Maker. I remember listening to their album nonstop and talking enthusiastically about them to my friend, Sheila. "They just sound like Atlanta," I enthused. She laughed. Ever since then, I have felt a bit like the voice crying in the wilderness. I love the band, and I don't feel they've ever received the recognition or attention they deserve. Of course, it doesn't help that the lineup is shaky, and the sibling rivalry between Chris and Rich Robinson is notorious. Still, I think they have a solid sound — crunchy, raunchy guitar and plenty of blue-eyed soul.
I decided to shake up my radio blog with a Black Crowes set list that serves as a good introduction to the band. Or it serves as a list of some of my favorites, anyway.
Go Faster

From the album By Your Side, which taken as a whole is not up there on my list of favorite Crowes albums. This track is very good, though. Makes me want to go faster, anyway. Quit laughing, Steve.

Wiser Time

From the album Amorica, which is solid all the way through, and was described by one recent Amazon reviewer as the "soundtrack to [his] life." I agree with that assessment of the album. This is possibly my favorite Crowes song, if I had to pick one. It is best listened to while driving southbound on the Connector through Atlanta just as the downtown skyscrapers loom in the zodiacal light, to borrow a favorite phrase of Steve's. Or while driving across the flat expanses between small towns on I-70 westbound in Kansas.

Sometimes Salvation

From the album The Southern Harmony and Musical Companion, which is my favorite Crowes album. If you only buy one Crowes album, you should buy this one. This song is really high up there on my list of favorite all-time songs.

A Conspiracy

From Amorica. I like the slide guitar. Have mercy, baby.

Ten Years Gone
Can't You Hear Me Knocking

This is live concert track, so the sound quality is not great, but it is such a great cover, I had to include it. The Crowes are often compared to Exile on Main Street-era Rolling Stones, although this song was on Sticky Fingers.

High Head Blues

From Amorica. Kind of psychedelic. The video was funny. I like the… I think it's a vibraphone… in this one. You'll know it when you hear it. It's groovy.

My Morning Song

I really hear the blues/Led Zeppelin influence on this one, which is from The Southern Harmony and Musical Companion.

Cypress Tree

From Lions. Really crunchy guitar; heavier sound.

Bad Luck Blue Eyes Goodbye

From The Southern Harmony and Musical Companion. Also one of my all-time favorite songs. It's not out of spite. I just know what's right. Yep. Very fine white blues.
What's not on my list? The overplayed and somewhat trite "She Talks to Angels." If that's what you know about the Crowes, you are better served by a listen to my radio blog than commercial radio. As much as I love Shake Your Money Maker, I don't think it's their finest album, and I didn't include any tracks from it here.
The Black Crowes have a great website. It is really appealing to the eye. Call me weird, but I think it's fun that the guitar is somewhat interactive. If you want to get a really good taste of their music, they play clips of LOTS of their songs, plus there is video footage (although low quality and slow to load) and concert recordings.
All of this plus Rich Robinson is cute not as cute as Steve — Happy Father's Day, Steve!
Enjoy!