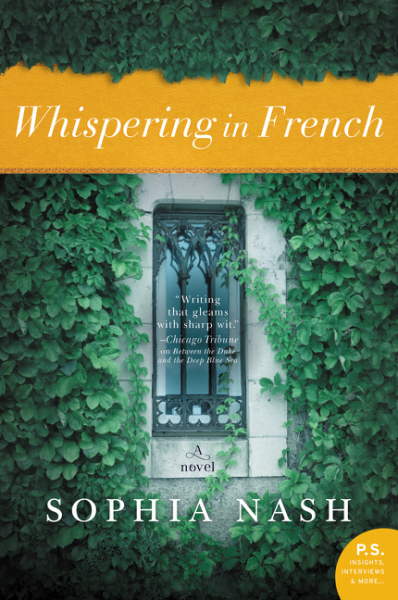 Sophia Nash's novel Whispering in French begins as Kate Hamilton flies to Biarritz in the south of France to see if she can convince her grandfather to sell the cliffside villa that has been in her family for generations. She doesn't expect to fall in love with the place herself and to risk everything to save it, finding herself and discovering a new confidence and ability to take risks in the process.
Meanwhile, her grandfather's neighbor asks Kate, a psychologist, if she will help his great-nephew, Edward Soames, whose PTSD as the result of several tours of duty threatens to destroy the man's life and perhaps even, his uncle fears, cause his suicide. He proves to be a difficult case, and Kate breaks some of her own rules in order to reach him.
Kate weathers a string of crises, from lack of money (never actually a serious crisis, as it turns out), to a violent storm, to a reconciliation with her family, to discovering family she didn't know she had, bureaucratic red tape. I was curious as to why so many crises hit the protagonist in such quick succession only to be neatly resolved within a chapter or two. The basic plotline meandered a bit, not quite resolving itself for this reader. I wondered also at the inclusion of the adventures of the neighbor's cat and a hedgehog, who were later joined by a dog, in the garden. However, Kate's self-realization and acceptance of herself felt realistic in light of the challenges she faced as she decided to stay in France. The setting is rendered realistically and vividly. Readers looking for a light beach read might enjoy this one.
Rating:





From the Publisher
• Paperback: 384 pages
• Publisher: William Morrow Paperbacks (August 1, 2017)
Award-winning romance author Sophia Nash makes her women's fiction debut with a beautifully crafted, funny, and life-affirming story set in the Atlantic seaside region of France, as one woman returns to France to sell her family home and finds an unexpected chance to start over—perfect for fans of Le Divorce and The Little Paris Bookshop.
Home is the last place Kate expected to find herself…
As a child, Kate Hamilton was packed off each summer to her grandfather's ivy-covered villa in southern France. That ancestral home, named Marthe Marie, is now crumbling, and it falls to Kate—regarded as the most responsible and practical member of her family—to return to the rugged, beautiful seaside region to confront her grandfather's debts and convince him to sell.
Kate makes her living as a psychologist and life coach, but her own life is in as much disarray as Marthe Marie. Her marriage has ended, and she's convinced that she has failed her teenaged daughter, Lily, in unforgivable ways. While delving into colorful family history and the consequences of her own choices, Kate reluctantly agrees to provide coaching to Major Edward Soames, a British military officer suffering from post-traumatic stress. Breaking through his shell, and dealing with idiosyncratic locals intent on viewing her as an Americanized outsider, will give Kate new insight into who—and where—she wants to be. The answers will prove as surprising as the secrets that reside in the centuries-old villa.
Witty and sophisticated, rich in history and culture, Sophia Nash's novel vividly evokes both its idyllic French setting and the universal themes of self-forgiveness and rebuilding in a story as touching as it is wise.

Purchase Links
About Sophia Nash
Sophia Nash was born in Switzerland and raised in France and the United States, but says her heart resides in Regency England. Her ancestor, an infamous French admiral who traded epic cannon fire with the British Royal Navy, is surely turning in his grave.
Before pursuing her long-held dream of writing, Sophia was an award-winning television producer for a CBS affiliate, a congressional speechwriter, and a nonprofit CEO. She lives in the Washington, D.C., suburbs with her husband and two children.
Sophia's novels have won twelve national awards, including the prestigious RITA®Award, and two spots on Booklist's "Top Ten Romances of the Year."
Find out more about Sophia at her website, and connect with her on Facebook and Twitter.
Harper Collins provided me with a copy of this book in exchange for a fair and honest review. You can catch the reviews of other readers on the TLC Book Tour.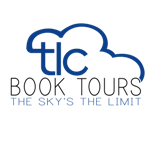 Tuesday, August 1st:Â Girl Who Reads
Wednesday, August 2nd:Â Just Commonly
Wednesday, August 2nd:Â I Wish I Lived in a Library
Friday, August 4th:Â Art @ Home
Monday, August 7th:Â A Chick Who Reads
Wednesday, August 9th:Â Reading to Distraction
Thursday, August 10th:Â BookNAround
Monday, August 14th: Tina Says…
Tuesday, August 15th:Â StephTheBookworm
Wednesday, August 16th:Â Much Madness is Divinest Sense