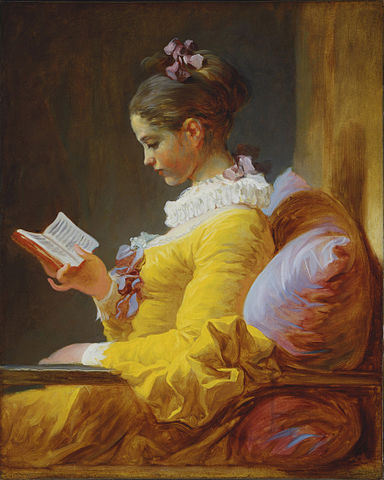 Happy New Year! Let's all hope we survive the end of the Mayan calendar this year, mainly so people on the "History" Channel (lately, I'm thinking some sort of federal authority ought to require them to use the quotation marks) will quit talking about it.
I met my reading goal of 50 books in 2011, which was my best ever year. While I do want to read more books this year, I am not sure I could read much more than 50, so I'm setting this year's goal at 52, only a moderate increase over last year's goal. It also rounds out to an even book a week.
I am participating in the following reading challenges this year:
All of these challenges allow for books to be counted for more than one challenge, which is great. Otherwise I'd need to pare back.
Last year I made it a goal to improve the tagging on my blog posts, which is still an area I need to work on. I am posting more regularly, and the review posts include the authors' names now, which I think has contributed to making them more useful. I need to work on titling meme posts so that they are more descriptive of the content rather than just titling them after the meme and using the date. I need to get back in the habit of doing Teaser Tuesdays. I realized in looking back at my posts that I actually liked those posts quite a lot more than I thought I did. Also, I think it's a good way to introduce readers to favorite quotes in books. Another goal I have for my blogging is to post more often about book and literature-related issues, which I started out doing, but gradually cut back on. In reflecting on my favorite posts of the year 2011, I found those types of posts were more frequently my own favorites, and it stands to reason that if I liked them better, perhaps readers do too.
I have some other reading goals for the year.
Find the time/energy to revive the faculty book club I have led at my school. My colleagues have been asking me about it.
Comment more on reading blogs. I subscribe to many in my feed reader, but I don't leave comments as often as I think about it.
Clean out my blogroll/RSS feed reader once a month and eliminate bloggers who haven't posted in a while (unless they announced a hiatus and plan to be back).
Read books set in a larger variety of locales. I don't want to push it artificially, and I want to read what I want to read, but I did notice the books I read this year were clustered in two locations: the east coast of the U.S. and the U.K. I guess it makes sense, but even with the U.S., I only read two books set in western states (Colorado and Washington) and one set in the midwest (Wisconsin, though that was [amazon_link id="0060558121″ target="_blank" ]American Gods[/amazon_link], which is set all over America, and I picked the place the character settled down the longest).
Outside of reading, blogging, and reading about blogging, I have some more goals for the year.
Continue the exercise regimen I started before Christmas. My Christmas present to myself (from the family, I guess) was a Wii Fit, which my sister said was great for beginners. I started a yoga/aerobic/strength training regimen that I have been faithfully doing every day for about a week (barring Christmas, mainly because I didn't take the Wii down to my parents' house, where we spent Christmas). It's actually been a lot of fun to use the Wii Fit program.
Learn to knit. My sister learned from watching videos, and frankly, I hope I can teach myself using videos or tutorials rather than take a class. But I should like to learn so I can make Hogwarts house scarves for everyone in the family according to their house colors (Maggie and Sarah are Hufflepuffs, Steve's a Slytherin, I'm a Ravenclaw, and Dylan hasn't been officially sorted in Pottermore, so I'll either let him pick or sign him up for Pottermore when it's out of beta). Maggie and Sarah seemed to like the idea of having Hufflepuff scarves, so it sounds like a plan.
Cook more. It's hard with work and everything else, but it's more economical. I have done fairly well this year, but there is always room for improvement. I get bored of the same old things over and over. I like trying out new (simple) recipes and saving the more time-consuming/difficult stuff for weekends, holidays, or breaks. Cooking more means planning better and perhaps even a membership at one of those wholesale warehouses. I have a family of five, and we go through the food. I need to be smarter about the food budget. I have quite a few food-related books on my TBR list, too. I love watching TV about food and reading about food.
What about you? Do you have any reading goals or other goals for 2012?