Iliana held a contest in honor of her blog's fifth anniversary, and I was one of the winners. My prize was one of her famous beaded journals. Take a look: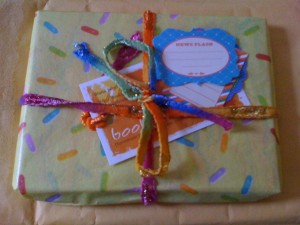 I didn't expect the journal to come wrapped. Look at the pretty paper and ribbons!
Here's the unwrapped journal. Pretty colors!
Here is the side of the journal. You can see the beads.
The journal opened from the back. Like Iliana says, the journals lie flat when opened.
Here's the open journal.
Very pretty! If you would like to buy your own, visit Iliana's Etsy store.
Happy anniversary!