I have been wanting to try canning and preserving for a long time, but I was intimidated and also didn't have enough time to devote to learning a new thing. If you've been following this blog for a while, you might remember that I have made soap pretty often in the past and also taught myself how to make bread. I learned both of these home crafts, for lack of a better term, through reading books (my preferred medium for learning). One of my students told me that's really weird because she, like many other people her age, prefers to learn by watching YouTube videos.
I bought myself two canning and preserving books. I figured I'd have time to read them and try out some recipes now that it's summer (a perfect time to learn to preserve) and I'm all done with grad school. I did a bit of research to find out which books most people were recommending on blogs, and I wound up buying two.
What I loved most about this book is that all the recipes are small-batch, and the book is geared toward novices. One reviewer on Goodreads criticized this book for having a lot of recipes that cannot be processed for long-term storage. That's a fair critique. One example I noted was their recipe for onion jam; however, the Ball book below has a similar onion jam recipe that can be processed. I thought their instructions were very clear. I have learned to trust America's Test Kitchen books and recipes online/in magazines after trying so many. They all just work because, well, ATK tests everything (hence, their name). It's nice to know what pitfalls to avoid. Their ingredient and equipment reviews were really helpful. On their advice, I bought the canning pot, jar lifter, and pectin they recommended.
This book is a comprehensive compendium that includes instructions and recipes for everything from jams and fruit preserves to dehydration and smoking and curing meat. I think many of the recipes and techniques are within reach of beginners, but whether or not beginners would want to invest in them is probably another issue; for example, I'm not sure I have an interest in curing my own bacon. Still, that's just me. Most of the book is dedicated to canning in many forms, from jams to pickles. There is a chapter on pressure canning. I'm not sure I feel like I want to invest in a separate gadget just to try pressure canning, but some of the recipes in that section do look good. There is an intriguing recipe for mustard in the fermenting section that I want to try, and their dill pickle spears look like they'd be interesting to try as well.
Both of these books are great in terms of instructions, advice, and recipes, but I give the nudge to the Ball book in terms of range. I haven't tried any of its recipes yet, but I made some of the ATK book's blueberry jam and preserved some cherries in syrup. I'm hoping to try dill pickles next. I took some pictures to chronicle this journey.
My husband and I went to our local pick-your-own farm and got four quarts of blueberries. There was something really satisfying about pulling the fruit off the bush and hearing it plink as it fell into the bucket or cardboard box. I've never picked blueberries before, but I have gone to this farm to pick strawberries and apples.
I decided to make the America's Test Kitchen book's Blueberry Earl Grey jam because I love Earl Grey tea. Also, it was a small two-jar recipe that would give me a chance to try out processing, a technique for preserving jam for long-term storage—up to a year.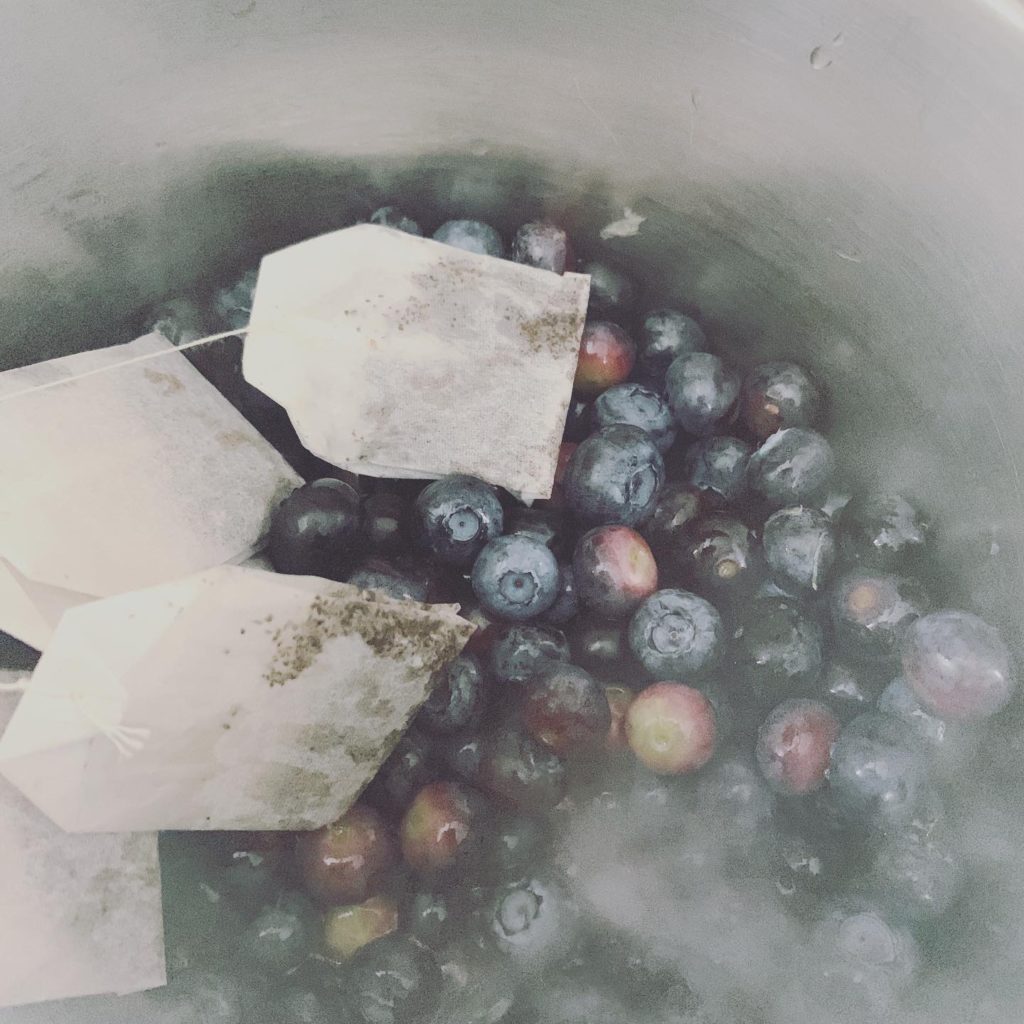 The blueberries don't need to cook very long before they start to release their juice. After you add the pectin and sugar, it seems like a really quick process. Even though I was just making two jars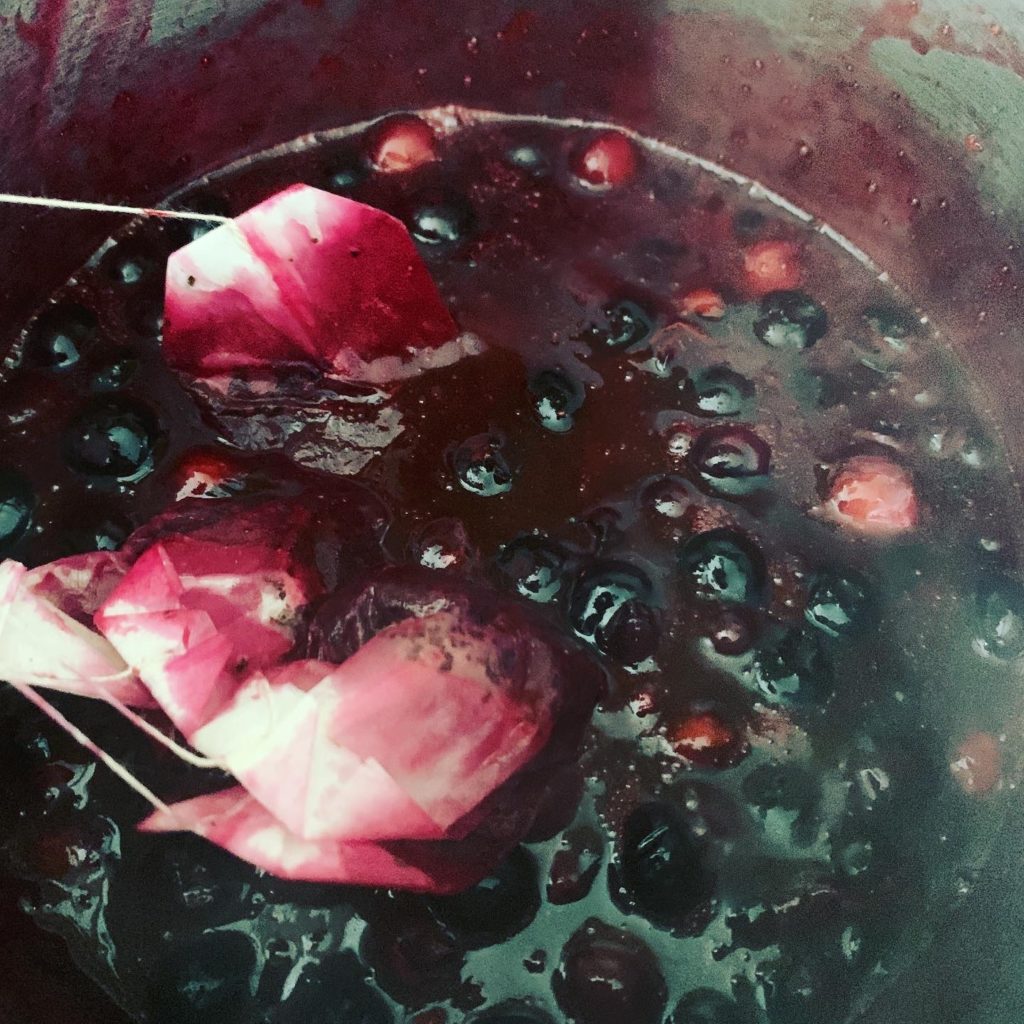 I tried out my new canning pot, which is the one America's Test Kitchen recommends in their book both in terms of value and durability. When I was done I had two jars of blueberry jam. I can't taste the Earl Grey tea at all. A friend told me you need a lot more tea than five teabags to impart flavor, so I'm not sure what the folks at ATK were tasting, but it didn't come through for me. Lesson learned. I'm not going to bother adding the tea in the future.
Our local pick-your-own had a few tart cherries in their farm store, but the season is pretty much over, and if they grow sweet cherries, I missed it. I bought some sweet cherries from my grocery store. Making the cherries in syrup was a process because I had to pit all the cherries, and I don't have a cherry pitter. I'm not sure I should get one because I don't think I'll be preserving cherries in syrup a lot. They are extremely delicious, but the cherry season is so short. It seems like something I might do once a year. I did a search online to see how you go about pitting cherries if you don't have a pitter. I found a video that recommends pushing a metal straw through the top of the cherry so the pit comes out the bottom. This might be a fine idea if you only have to pit a few cherries, but if you have to pit three pounds, it's a bit tedious. Some of the cherries fought pretty hard to hold onto their pits. My hands were covered in cherry juice, and I made a big mess, but I got it done. I followed some additional advice in the ATK book about cutting a vanilla bean in half, scraping out the seeds and putting them in the syrup, and then cutting the bean in fourths and putting one section in each jar. Now, that did make the cherries have a hint of a vanilla flavor that was really delicious, but I don't want to tell you what I paid for vanilla beans. It was shy of sacrificing my firstborn. I don't know if the same effect can be achieved by using vanilla extract or not. In any case, I processed the cherries to practice using the canner again.
I tried some on vanilla ice cream, and they were delicious. They were not overly sweet—just the right amount of sweetness and that yummy hint of vanilla. Fruit in syrup can be cloying, but these were excellent. Perfect for vanilla ice cream.
I really enjoyed starting my canning adventures, and these two books are both highly recommended for anyone looking to try it.