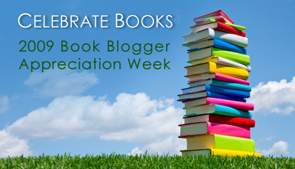 I had the opportunity to get to know fellow book blogger Trish of Hey Lady! Whatcha Readin'? I love that she preserves the apostrophe for the dropped g and still includes the proper punctuation—a question mark—after the apostrophe.
Can you tell us a little about yourself?
Hmm…such a broad question! I'm 30 years old, married, and have two dogs and a cat. I spend way too much time on the computer and hardly ever watch TV. I like to eat cookie dough and don't like my food to touch. I prefer the rain over the sun because of my fair skin. I geek out when I meet authors and have been known to put both feet in my mouth and continue to talk blithely.
Why did you start blogging?
I started blogging because I had some (what I thought were) interesting/bizarre stories that I wanted to share, and I was already reading blogs so I thought, I can do this! I assumed, If you write it, they will read it. I quickly found out that that's not necessarily true and that getting people to read your blog is quite a bit of work!
I see you've been blogging for a long time. What keeps you blogging? How have you seen the book blogging world change in the years you've been blogging?
The community keeps me blogging. I've met (in real life even!) some really great people, people who love books as much as I do, and I love that community. I love connecting with people, and my blog is one way in which I can do that. Being fairly introverted, it's the perfect place for me to be outgoing, because I can be outgoing when I feel like it, not because I'm at a party and have to be outgoing. 🙂
The book blogging world has grown by leaps and bounds. I've seen the community come together, and I've also seen the community get fractured by those who like to create drama. One thing I've noticed is it's a lot easier to get ARCs. Whether that's a good thing or a bad thing I'm not quite sure… 🙂
Do you have any secret names for yourself?
Umm…no. But I do find myself talking to myself a lot more.
Have you ever gotten in trouble for reading (at school or work)?
Not exactly, since I've always been pretty sly. But I have gotten some sidelong glances as I close my book and quickly get back to work.
Who's the coolest author you've ever met?
Wally Lamb. He made me feel like we were the only ones in the bookstore (even though there was a line of probably 50 people behind me), and he also made me feel like maybe possibly perhaps one day I could be an author.
The most…interesting author I've met is Katherine Dunn, author of GEEK LOVE. She wears sunglasses all the time and tends to avoid the media, so meeting her was pretty exciting.
Since this is Book Blogger Appreciation Week, do you have some other favorite book bloggers you'd like to mention?
1st Books: Stories of How Writers Get Started is a blog written by Meg Waite Clayton, author of THE WEDNESDAY SISTERS. She has other authors guest post, and it's pretty fantastic.
A High and Hidden Place: Tales of a Capricious Reader is a great blog where you can get recommendations for a variety of books. The blogger, Heather, has a great writing style and is a lot of fun. 🙂
books i done read is very funny. All should read this blog.
Books on the Brain. Lisa is the first book blogger I ever met and still a favorite.
Dreadlock Girl is another favorite. She has great taste in books, has widened my reading, and is a great photographer.
Galleysmith is a new blogger, and holy cow, I don't know how we ever survived without her. She has a really fun writing style and she loves YA. I love her.
Jenn's Bookshelves. Jenn has never steered me wrong on a book, and she's super fun to hang out with, too. This is a must read.
Linus's Blanket. I met this blogger, Nicole, when I was in New York for BEA, and she's one of the most well-spoken, well-reasoned bloggers I met while I was in New York. She writes great reviews and is a lot of fun.
Presenting Lenore. Lenore and I have very similar tastes in books, and she does a great job of not giving away every single plot detail.
Steph and Tony Investigate! Steph writes fantastic reviews, and has some of the most thorough reviews I've ever read. She puts other reviews to shame.
The Bluestocking Society has more great book reviews. I love Jessica's style and recommend her blog to everyone.
Have you ever thrown a book across the room?
No, but I've wanted to. Perhaps I'll do that at the end of THE TIME TRAVELER'S WIFE since I'm not particularly enjoying it.
Do you have one book you recommend to EVERYONE?
THE LIKENESS by Tana French. I seriously don't know how you could be a reader and not enjoy that book. Also, THE HUNGER GAMES by Suzanne Collins.
Can you tell us your favorite books of all time (top 3 or 5)?
Crap. I hate these questions. Okay, let's see.
THE LIKENESS by Tana French
BEL CANTO by Ann Patchett
THE POISONWOOD BIBLE by Barbara Kingsolver
WORD FREAK by Stefan Fatsis
GEEK LOVE by Katherine Dunn
Thanks Trish for being such a great subject and helping me figure out BBAW. If you are not reading Trish now, you should be!