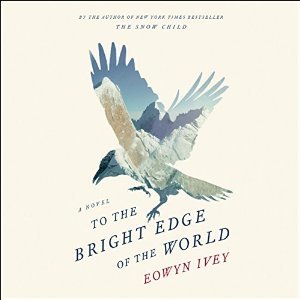 To The Bright Edge of the World
by
Eowyn Ivey
Published by
Hachette Audio
on August 2, 2016
Genres:
Historical Fiction
Format:
Audio
,
Audiobook
Source:
Library
Buy on Amazon
Goodreads

In the winter of 1885, Lieutenant Colonel Allen Forrester sets out with his men on an expedition into the newly acquired territory of Alaska. Their objective: to travel up the ferocious Wolverine River, mapping the interior and gathering information on the region's potentially dangerous native tribes. With a young and newly pregnant wife at home, Forrester is anxious to complete the journey with all possible speed and return to her. But once the crew passes beyond the edge of the known world, there's no telling what awaits them.

With gorgeous descriptions of the Alaskan wilds and a vivid cast of characters —including Forrester, his wife Sophie, a mysterious Eyak guide, and a Native American woman who joins the expedition—TO THE BRIGHT EDGE OF THE WORLD is an epic tale of one of America's last frontiers, combining myth, history, romance, and adventure.
In the Middle Ages, mapmakers used to draw dragons, sea monsters, and other mythical creatures to mark the unknown: "Here be dragons." Lt. Col. Allen Forrester must have understood the impulse. I loved this epistolary novel about an expedition to explore the fictional Wolverine River in Alaska. The characters come to life through letters, diary entries, and artifacts such as advertisements, photographs, drawings, and much more. I was listening to the audiobook, and I checked out the hardcover from the library so I could examine some of these artifacts as I read.
I probably wouldn't have picked up this book had I not been participating in the Decades Reading Challenge and needed a book set in the 1880s or 1890s. I didn't think I was much interested in reading about Alaska or its exploration. However, the book had good reviews, and I thought I'd at least check it out. I'm so glad I did because Eowyn Ivey managed to captivate me on a subject and setting I wasn't much interested in.
The descriptions of Alaska were lyrical, and I rooted for the expedition to make it. More than that, Ivey transformed Sophie Forrester's story—waiting at home for her husband to return and taking up photography—into a fascinating tale to equal her husband's. I particularly loved the coda at the end.
Along with the Forresters' story, Ivey also weaves the tale of the blossoming friendship between Walt Forrester, a descendant of the Colonel's brother, and Josh Sloan, who works at a museum in Alaska. Walt wants to bequeath the Forrester papers and artifacts to the museum. I was charmed by their letters back and forth to each other.
The audiobook is excellent, but if you read it, do yourself a favor and have a paper copy on hand to experience the full multimedia experience this book offers.