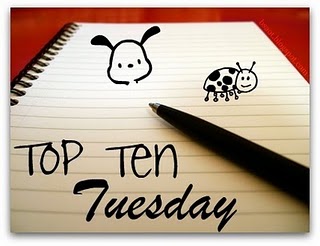 Warning! Here be spoilers!
This week's Top Ten Tuesday is all about the Book Endings that Left Me with My Mouth Hanging Open. The ends of each of the following books are discussed, so if you want to read them and want to be surprised, read no further: Mockingjay, Suzanne Collins; The Giver, Lois Lowry; Rebecca, Daphne du Maurier; Lord of the Flies, William Golding; Gone with the Wind, Margaret Mitchell;  Water for Elephants, Sara Gruen; Possession, A.S. Byatt; The Thirteenth Tale, Diane Setterfield; The Ghost Writer, John Harwood, The Egyptologist, Arthur Phillips. Nota bene: I will be discussing the end of many of the Harry Potter books and why I didn't find some of them as shocking as others seem to have found them.
Here is your last chance to stop reading if you don't want the endings of those ten books spoiled.
I mean it.
For real.
[amazon_link id="0439023513″ target="_blank" ]Mockingjay[/amazon_link], Suzanne Collins. Granted, [amazon_link id="0439023491″ target="_blank" ]Catching Fire[/amazon_link] ends on a real cliffhanger, and if Mockingjay hadn't already been out when I read it, I would have probably put it on this list. But what the hell, Mockingjay? Katniss takes Prim's place in the Hunger Games, competes again in the 75th games (Quarter Quell), and then becomes the symbol for the rebellion all to have to Prim die in a senseless "friendly fire" attack? Or was it even friendly fire? Because you can't be 100% certain. But I think it was, and that means Gale was responsible, too, which was horrible. (Review)
[amazon_link id="0385732554″ target="_blank" ]The Giver[/amazon_link], Lois Lowry. OK, so I totally disagree with Lois Lowry about what happens at the end of this book. She thinks that the light that Jonas and Gabriel see is to a real house, and then they go on to survive and Jonas becomes the leader of this community that is revealed in [amazon_link id="0385737165″ target="_blank" ]Messenger[/amazon_link]. I think Jonas and Gabriel died of hypothermia. I don't want the poor kids to die, but that ending is, in some ways more realistic and more satisfying than the ending Lowry's sequels suggest. I mean, that way Jonas becomes a sort of Christ figure, and you can have this layer of biblical allusion, with "Gabriel" heralding Christ (sort of) as he does in the New Testament. I wasn't surprised by Jonas and Gabriel dying, but when I discovered they actually lived after I read Messenger, then I was shocked.
[amazon_link id="B000GH2YPG" target="_blank" ]Rebecca[/amazon_link], Daphne du Maurier. Holy hell! Rebecca was actually evil! And Maxim hated her! And she was having an affair with her cousin! In the 20th century! And she had cancer! And Mrs. Danvers freaked out and burned Manderley down! Just as everything was starting to look good for the narrator and Maxim again, too. So much crazy went down at the end of that book that it's hard to keep track. Great ending, though. I think if I had lived in Manderley, the thing I would miss the most would be breakfast. Did you get a load of the meals they ate at Manderley? Also, I covet Mrs. de Winter's desk. (Review)
[amazon_link id="0399501487″ target="_blank" ]Lord of the Flies[/amazon_link], William Golding. I thought Ralph was dead for sure, and then, out of nowhere, he runs right into the feet of a soldier. What happens next? I guess the boys are rescued, but do Jack and his gang ever have to pay for killing Piggy? Will Ralph ever be right in the head? What happens NEXT!
[amazon_link id="1451635621″ target="_blank" ]Gone with the Wind[/amazon_link], Margaret Mitchell. So Scarlett O'Hara takes about 1,000 pages to figure out she really loves Rhett after all, and he leaves her? Well, do they get back together? Come on! [amazon_link id="B0029LHX6M" target="_blank" ]Alexandra Ripley[/amazon_link] can't be the last word on this because that book was not up to scratch. Margaret Mitchell, not writing a sequel to that book was criminal. By the way, I like to imagine that they did reunite and make lots of babies. Goodbye 17-inch waist.
[amazon_link id="1565125606″ target="_blank" ]Water for Elephants[/amazon_link], Sara Gruen. Jacob ran away with the circus! How cool was that? Completely didn't expect it, but loved it. I also loved it that Rosie split August's head open. I thought it was Marlena for sure. (Review)
[amazon_link id="0679735909″ target="_blank" ]Possession[/amazon_link], A.S. Byatt. Wait, Maud is descended from the love child of Christabel LaMotte and Randolph Henry Ash? Who saw that coming? And the secret lay all that time in Ash's grave.
[amazon_link id="0743298039″ target="_blank" ]The Thirteenth Tale[/amazon_link], Diane Setterfield. Vida Winter is really Charlie's daughter, the twins' half sister, and has been posing as if she were Adeline ever since Adeline went berserk, burned down the house, and died? (Review)
[amazon_link id="B000I5YUJE" target="_blank" ]The Ghost Writer[/amazon_link], John Harwood. OMG! Gerald's sick aunt lured him to England so she could take revenge against her sister through her sister's son, and she was going to radiate him? I mean, that's crazy is what that is. I had to read the ending of that book several times to figure out what happened, and I'm still not completely sure. (Review)
[amazon_link id="0812972597″ target="_blank" ]The Egyptologist[/amazon_link], Arthur Phillips. The end of this was hilarious in a sick sort of way. Ralph Trilipush (not his real name) attempting to immortalize himself by lying down and dying the empty tomb he discovered, down to scrawling all the hieroglyphics on the wall and mummifying Finneran (talk about being in the wrong place at the wrong time), then lying down to die, hoping he will be found and thought to be the great lost pharoah Atum-Hadu, whose tomb he had been seeking in the shadow of Carter's discovery of Tutankhamun's tomb. The ending of that book was one the craziest, most darkly funny things I've ever read. Oh, trust me, he had it coming. All while not realizing he was the heir to a large fortune that would have fed his empty coffers and allowed him to continue spelunking in the tombs of Egypt as long as he liked. (Review)
The Harry Potter books had twists, but not all of them surprised me, and [amazon_link id="0439785960″ target="_blank" ]Harry Potter and the Half-Blood Prince[/amazon_link] was the one that surprised me least. Here is why. I knew Dumbledore would die because Obi Wan and Gandalf died before him (and, all three of them came back in some form), and these hero's journeys follow a pattern. Often the mentor must be lost, and the hero must be truly alone when he confronts the enemy in the final showdown. If the mentor does come back, he doesn't take a form that is helpful to the hero and can only guide a little perhaps. Gandalf is the exception, as he comes back more powerful than before. Would Harry have really defeated Voldemort if Dumbledore had been around to continue saving his neck? I don't think it would have worked. No, I knew he would die. I also always knew we'd lose at least one of the Weasleys, though I was surprised by which one (I suspected perhaps Bill), and I thought Hagrid might die. I'm glad he didn't. I always knew Harry would live and defeat Voldemort. I also always knew Snape wouldn't make it out of the series alive. After the first book, I came to expect a twist, of sorts, in each book, and sure enough, it was there each time. Honestly, the book that surprised me the most in that series was the first. I don't know why now because it should have been obvious, as Quirrell says at the end, that we are being set up to think Snape is evil because he looks the part and he's a big grouch.
It was a lot of fun to be as spoilery as I wanted in this post. I should do that more often.
Nah. Too mean.