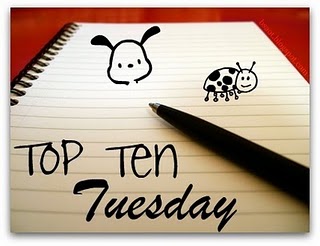 Warning! Here be spoilers!
This week's Top Ten Tuesday is all about the Book Endings that Left Me with My Mouth Hanging Open. The ends of each of the following books are discussed, so if you want to read them and want to be surprised, read no further: Mockingjay, Suzanne Collins; The Giver, Lois Lowry; Rebecca, Daphne du Maurier; Lord of the Flies, William Golding; Gone with the Wind, Margaret Mitchell;Â  Water for Elephants, Sara Gruen; Possession, A.S. Byatt; The Thirteenth Tale, Diane Setterfield; The Ghost Writer, John Harwood, The Egyptologist, Arthur Phillips. Nota bene: I will be discussing the end of many of the Harry Potter books and why I didn't find some of them as shocking as others seem to have found them.
Here is your last chance to stop reading if you don't want the endings of those ten books spoiled.
I mean it.
For real.