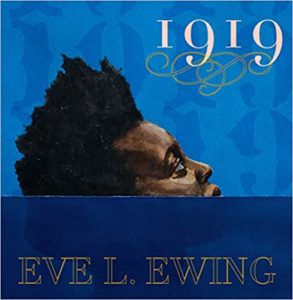 1919
by
Eve L. Ewing
Published by
Haymarket Books
on June 4, 2019
Genres:
Poetry
Pages:
76
Format:
Paperback
Buy on Amazon
Goodreads

Poetic reflections on race, class, violence, segregation, and the hidden histories that shape our divided urban landscapes.

The Chicago Race Riot of 1919, the most intense of the riots that comprised the "Red Summer" of violence across the nation's cities, is an event that has shaped the last century but is widely unknown. In 1919, award-winning poet Eve L. Ewing explores the story of this event—which lasted eight days and resulted in thirty-eight deaths and almost 500 injuries—through poems recounting the stories of everyday people trying to survive and thrive in the city. Ewing uses speculative and Afrofuturist lenses to recast history, and illuminates the thin line between the past and the present.
I had been wanting to read 1919 for a while and finally picked it up at the Harvard Book Store recently when Steve and I went to Cambridge to hear Katherine Howe discuss her new book. Ewing weaves together passages from a report called The Negro in Chicago: A Study on Race Relations and a Race Riot (1922) with poetry inspired by the passages and photographs from the era. If you hadn't heard about the 1919 race riot in Chicago, you are not alone. I hadn't heard of it either, and you have to wonder how much this tragic event influenced race relations in Chicago in the decades that followed up to the present day. Did it influence redlining, for example? Redlining isn't unique to Chicago, but it's the city people think of when they think of redlining. What about the school system? The way in which that city can still be quite segregated, though again, it's not alone among northern cities in that regard. The book weaves together reimagined passages from Exodus with a wide variety of poems (including haiku, haibun, two-voice poetry, and erasure poetry).
The collection includes several poems that stood out for me. "I saw Emmitt Till this week at the grocery store" imagines an Emmitt Till who survived to old age. Till would turn 78 later this month, had he lived, lest anyone think that the kind of racial violence that resulted in his murder happened a long time ago. "April 5, 1968," an allusion to the aftermath of Martin Luther King, Jr.'s assassination, includes some gorgeous language, some of which alludes to King's speeches. "Countless Schemes" riffs on a chilling passage from The Negro in Chicago that suggests the only solution to eliminating racial strife in the country is the elimination of African Americans, either through deportation, the establishment of a segregated state, or the hope [their word] that African Americans would die out. "Jump/Rope" evokes a jump rope chant, similar to "Miss Mary Mack" in structure and recounts the death of Eugene Williams, which sparked the 1919 riots.
1919 is an excellent poetry collection. I plan to use it as a mentor text in my Social Justice class. It gave me the idea that my students might be able to create a poetry project based on a social justice issue they research.
I'm so glad my poetry friends clued me in on Eve Ewing. Check this book out if you are interested in poetry, race relations, and racism, society, history, Chicago, or all of the above.