Sally Gunning's novel The Widow's War is the story of Lyddie Berry who lives with her husband Edward in 1761 Satucket (Brewster), Massachusetts on Cape Cod. When Edward dies in a whaling accident, Lyddie finds herself not only bereft of his companionship but also of the life they shared: as a widow, most of her property—including her house, cow, and furniture—is now owned by her son-in-law, Nathan Clarke, who also happens to be a jerk and a pig. As the novel unfolds, Lyddie, determined to maintain her independence and continue living the life she led before Edward's death, challenges Nathan and attempts to hold on to her freedom.
This novel is an enlightening peek into what women's lives in the eighteenth century might have been like. Gunning's research is meticulous, and her characters leap off the page in full relief. All the historical details ring true. One thing I think Gunning gets right in her historical novels is she is able to produce strong heroines who live within but also challenge the strictures of their time periods in ways that are believable. Lyddie's struggle for independence was heartbreaking, realistic, and intriguing. I know that some reviewers have challenged whether or not the book realistically depicts Lyddie's relationship with her Native American neighbor Sam Cowett, but I didn't find it difficult to believe. I also liked that the author did not choose to have Lyddie be "rescued" through a second marriage or a sudden change of heart on her son-in-law's part. I could have put a spoiler alert before that last sentence I suppose, but I liked the ending enough (and for a stretch of the book didn't think it was going to happen that way) that I went ahead and spoiled it anyway. Lyddie is a likable character. She could be called stubborn, but no one would say she was stubborn if she were a man. She is independent in a time when it's just about criminal or at least unheard of for a woman to be so, and I found myself rooting for her to be successful. She's made of some pretty strong stuff.
The Widow's War is the first in what she calls her Satucket trilogy. I previously read the third book, The Rebellion of Jane Clarke.
Rating: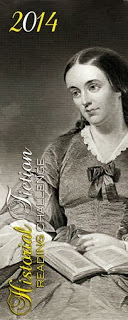 I read this novel as part of the Historical Fiction Reading Challenge.