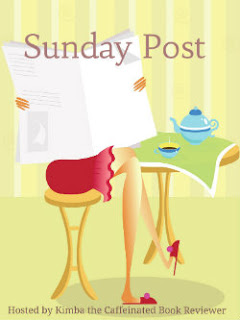 I am not sure it gets a whole lot better than Sundays in spring unless it's Sundays in fall (which is actually my favorite season).
School is winding down. I have one more day of regular classes, then it's final exams. I only have one final exam this year. I hope not to have any next year. I'm not sure such exams are the best way to assess learning in English classes.
The end of the school year is always so busy right up until final exams, and then it seems to relax. I have had a really good school year—perhaps the best one of my teaching career. I am really happy with some of the things I tried this year, and I think the students did some great work for me. I have wonderful students.
I got up early this morning (for me), and made a batch of Heavenly Honeysuckle soap. I don't always post my soap pictures here because I have another blog for that, but I really love the colors. Honeysuckle is one of my absolute favorite scents.
It should be ready to cut tomorrow and ready to use in about four weeks.
I didn't finish any books this week or really write on the blog, but I did keep listening to The End of the Affair by Graham Greene. That's the only book I've made any real progress on this week. I haven't done a lot of reading, but I did finish watching several episodes of Doctor Who—I've had that DVD from Netflix for about a month, so it's time to send it back already. It's not the longest I've kept a DVD. Though I didn't do much reading, I did add some more books to my TBR pile.
I am especially excited for Circling the Sun. I really enjoyed The Paris Wife. This new book by Paula McLain looks fascinating.
Sometimes I think my TBR pile is just a lovely collection of pretty covers of books I'll never get to read. I keep telling myself I will someday.
I've been listening to my classical Spotify playlists today. I thought you might enjoy the Spring Classical playlist on this lovely spring day.
The Sunday Post is a weekly meme hosted by Caffeinated Book Reviewer. It's a chance to share news, recap the past week on your blog, and showcase books and things we have received. See rules here: Sunday Post Meme.