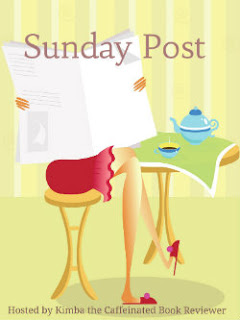 Looks like summer is starting pretty much all over (at least in the northern hemisphere). I'm beginning to see vacation pics on Facebook, and I've been eying my TBR pile, looking for good summertime reads.
I have a bit of a busy summer ahead. I am going to at least four teaching workshops. If anyone tries to tell you teachers don't work during the summer, don't you believe it. In addition, I have a new course to plan.
This week, I finished two books. The first I've already reviewed: The End of the Affair by Graham Greene. The second I have not yet reviewed, but will review and post about tomorrow (so good that it really needs its own post rather than a review rolled into the Sunday Post): We Were Liars by E. Lockhart. Both were audio books.
I am still finishing up Walden, though my other books are on a bit of a hiatus, with the exception of I Always Loved You by Robin Oliveira. I don't know if other readers do this or not, but I have to have at least one paper book, one e-book, and one audio book going at all times. The paper books I can read in the tub without fear of destroying an expensive device. The e-books I can read pretty much everywhere, including in bed with the lights off, so I don't disturb my husband. The audio books I can listen to while I do housework or make soap.
I love to read books set in my adopted home state of Massachusetts, so that was one reason why I liked We Were Liars so much, and I admit, seeing Massachusetts as a setting will push a book higher on my list. Here is a partial list of some of my favorite Massachusetts reads.
Some I'm looking forward to diving into or finishing:
I wonder if other readers are like me and like to read about places they have lived. I also certainly read a lot of books set elsewhere, too.
I added some books to my TBR list this week:
I know what you're thinking: some variation of either "why haven't you read The Things They Carried?" or "why wasn't it already on your list"? It sort of was on my list, to address the second question, but now an oversight is corrected in that it's on my Goodreads to-read list. As to the first question, yeah, I know.
Not at all a bad reading week, and I'm looking forward to more time (I hope) to read this summer. What about you? Have any recommendations or books you're anxious to read?
The Sunday Post is a weekly meme hosted by Caffeinated Book Reviewer. It's a chance to share news, recap the past week on your blog, and showcase books and things we have received. See rules here: Sunday Post Meme.