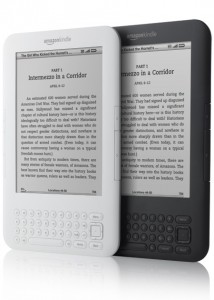 Perhaps the biggest book news this week has been the impeding release of the latest generation of the Kindle, Amazon's e-reader device. The new Kindle will be available in two colors: white or graphite, marking the first time you could get the Kindle in more than one color. The biggest news is that the Kindle will be available in wireless only and wireless + 3G versions. The wireless only version will be an affordable $139. I paid $259 for my Kindle with wireless and 3G in April, but this version of the new Kindle will cost only $189. The new Kindle will also be lighter by about 2 ounces. The battery life has been extended. With wireless off, the battery will now last a month. It will also have double the storage of the current Kindle. The new Kindle is also supposed to have sharper contrast and quieter, faster page-turns. I have to say that had I known this new Kindle was coming down the pike, I would have waited a few months. I'm hoping owning a Kindle isn't going to turn into the same frustrating cycle as being an Apple customer. Are you planning to get one? They're sold out for now, but you can put your name on a list. Amazon says as of today that if you order today, you can expect your Kindle on September 4. I think it's great that Amazon is working to make their excellent e-reader even better.
A lot of my friends have said that they like the feel and smell of books too much to get an e-reader. I have to say that just because I bought a Kindle doesn't mean I gave up print books. In fact, according to an infographic in the latest issue of Newsweek, only 15% of Kindle users stop reading print books.
In other news, I thought this podcast about Emily Dickinson's poem "Because I Could Not Stop for Death" was interesting. Give it a listen.
Anniversaries and birthdays this week:
August 3: Birthday of Leon Uris (1924), death of Joseph Conrad (1924), death of Flannery O'Connor (1964), death of Aleksandr Solzhenitsyn (2008).
August 4: Birthday of Percy Bysshe Shelley (1792), death of Hans Christian Andersen (1875).
August 5: Birthday of John Hathorne, hanging judge in the Salem witch trials and ancestor of Nathaniel Hawthorne, (1641); birthday of Guy de Maupassant (1850); birth of Conrad Aiken (1889); birth of Wendell Berry (1934).
August 6: Birthday of Alfred, Lord Tennyson (1809); birthday of Piers Anthony (1934); death of Ben Jonson (1637).
August 8: Death of Shirley Jackson (1965).
August 9: Henry David Thoreau publishes Walden (1854), birth of P. L. Travers (1899), birth of Philip Larkin (1922), birth of Jonathan Kellerman (1949), death of Hermann Hesse (1962).