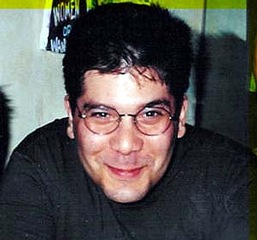 2,996. The number seems so large. The devastation wrought on 9/11/01 can be difficult to digest. Numbers like that are beyond comprehension. Nearly three-thousand people, who were going about their daily business, just like you and me, had their lives cut short. I can't tell you about all of them, but I can tell you about one man. His name was Eric Andrew Lehrfeld.
Eric Lehrfeld was the son of Daniel and Lynn Lehrfeld. He was an alumnus of New York University. He married the former Hayley Schwartz on August 9, 1998. Mrs. Lehrfeld recalled, "We met in the winter of 1996 at a Jewish singles party at the Roxy, on West 18th Street. We loved to talk about the day we met." They were the parents of Laura Elizabeth Lehrfeld, who was 17 1/2 months old on 9/11/01.
Eric had a passion for comic books. "He had the largest collection I have ever seen," said John Tabbone, Mr. Lehrfeld's best friend. "He had thousands and thousands." In Eric's Guest Book, John Tabbone wrote,
I keep saying to myself: Eric, where are you… He was my pal, my best man. Husband, father, friend, colleague and classmate. He did them all really well…Made me want to do them better. Eric…Where are you?
Mrs. Lehrfeld said that a perfect day for Eric would go something like this: "It's Saturday. Pick up the paper. Go to the farmers' market, pick up produce. Bring it back to me to cook it while he was reading his comic books. And then he would eat it all."
Friend Oliver Pacifico remembered,
Eric was a good friend of mine during our high school days at Clarkstown North High School. It seemed like only yesterday that we were playing poker in his basement with Pete, Adam, John, etc. As a matter of fact, I think I still owe Eric some money from a bluff gone wrong. We lost touch sometime during our college years.

On September 11, 2002 I was on the computer scrolling through the names of the people who were lost a year ago. There were so many names and I was scrolling through so fast it was all a blur and yet… the name Eric Andrew Lehrfeld stood out as clear as that terrible day a year ago. "It couldn't be," I thought to myself. Then I saw the caption after his name, "Comic Collector." It was then I knew. I scrolled down to see his picture and saw his face. I was immediately transported back in time to his basement years ago during that last poker hand when he called my bluff. "Fork it over," he said. "I'll catch you the next time," I responded.

A year ago I lived in Battery Park City and walked right through the World Trade Center at 8:30am on my way to work. I wish I had run into Eric that morning. We would have talked about what had happened to us during the past few years and laughed about the good times we had in high school. I'm sure he would have brought up the fact that I owed him twenty bucks from that last poker hand years ago. We'd carry on long enough for him to be late to that meeting he had.

I wish I could have given Eric his twenty bucks that day.
Eric's sister Elyse wrote in 2004,
Eric is my big brother and the best brother anyone could have ever hoped for. Words cannot describe the sadness and sense of loss I feel everyday, but I am so thankful for every moment of the 28 1/2 years we did have together. Athough 3 years have passed since the last time I saw his face, he lives in my heart and is a part of my life in everything I do and see. Eric, wherever you are, I know you are looking down at us (from the comic you are reading right now) and can feel how much we all love and miss you. Your amazing daughter grows more and more beautiful and intelligent everyday and it is amazing to watch as her sense of humor, her expressions and her sense of love for family and friends grows to mirror her Daddy's. Eric, I love you always.
Eric's memory was honored with a statue in the library of Little Tor Elementary School, which Eric attended as a child. Library officials noted, "He loved to read and will forever be remembered in our school." In 2003 the SPIE Global Homeland Security Technical Group created an award in memory of Eric, whose father serves on their executive committee. "This award commemorates Eric's life and reminds and stimulates us all to apply our technology to better secure our homelands."
Eric was Director of Business Development for Random Walk Computing. He was attending a conference on the 106th floor of the North Tower at the World Trade Center on September 11, 2001. COO of Random Walk Jim Lowe said, "Eric was not only instrumental to Random Walk's success over the years, but was also a close friend. We will miss Eric on every level, personal and professional." Random Walk established a charitable fund to help pay for Laura Lehrfeld's college expenses. To make a donation in Eric's memory, please contact Random Walk at (212) 480-5820.
At one event in tribute to fallen Americans, CNN reported:
Near the rubble of the World Trade Center, 18-month-old Laura Lehrfeld lit the first candle of a menorah. A similar ceremony will take place each of the next seven nights of Hanukkah. Laura's father, Eric Lehrfeld, was at a breakfast conference at the top of Tower 1 when a hijacked airliner struck the building.
In an e-mail to the author, Eric's sister Elyse said,
Even though 5 years have passed, the pain doesn't go away and we all miss him terribly. Eric was an amazing, brilliant, handsome, thoughtful and caring Husband, Father, Son, Grandson, Brother and most important Friend. As recent as this weekend we have received messages from people whose lives were touched by Eric at some point in their lives, letting us know how much they miss him and all the good he brought to their lives.

Whenever I look at his daughter I can see him shining through reminding us that a part of him is still here with us and lives through her every day. Even though they only got to spend 17 short months together, she knows just how special her Daddy Eric is and knows that he lives always and forever in her heart.
Lest we think the passage of time lessens the loss we feel, consider the words Eric's mother wrote three years after his passing: "As each day goes by, I miss him more and more."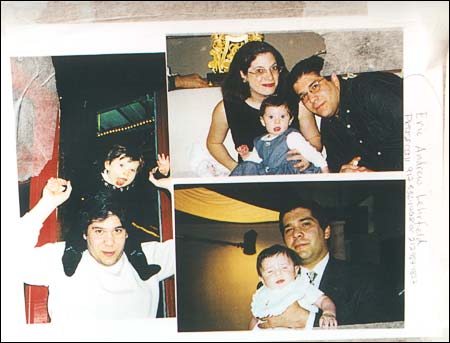 Yeetgadal v' yeetkadash sh'mey rabbah
Amein
B'almah dee v'rah kheer'utey.
v' yamleekh malkhutei,b'chahyeykhohn, uv' yohmeykhohn,
uv'chahyei d'chohl beyt yisrael,
ba'agalah u'veez'man kareev, v'eemru: Amein.
Amein. Y'hey sh'met rabbah m'varach l'alam u'l'almey almahyah.
Y'hey sh'met rabbah m'varach l'alam u'l'almey almahyah.
Yeet'barakh, v' yeesh'tabach, v' yeetpa'ar, v' yeetrohmam, v' yeet'nasei,
v' yeet'hadar, v' yeet'aleh, v' yeet'halal sh'mey d'kudshah b'reekh hoo
b'reekh hoo
L'eylah meen kohl beerkhatah v'sheeratah,
toosh'b'chatah v'nechematah, da'ameeran b'al'mah, v'eemru: Amein
Amein.
Y'hei shlamah rabbah meen sh'mahyah,v'chahyeem
aleynu v'al kohl yisrael, v'eemru: Amein
Amein.
Oseh shalom beem'roh'mahv, hoo ya'aseh shalom,
aleynu v'al kohl yisrael v'eemru: Amein
Amein.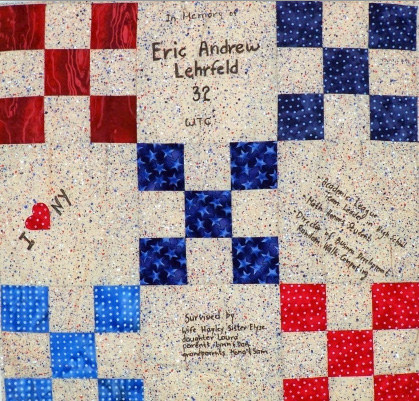 Visit Eric Andrew Lehrfeld's Memorial at Remember: September 11, 2001 and sign his Guest Book. Visit Eric Andrew Lehrfeld's tribute at September 11, 2001 Victims and leave your comments.