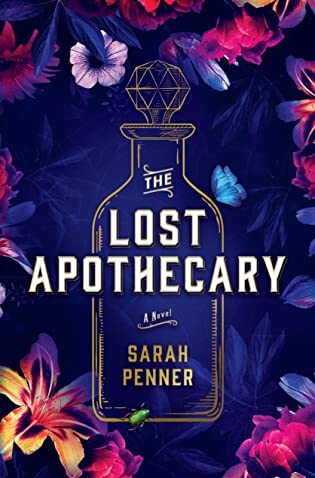 The Lost Apothecary
by
Sarah Penner
Published by
Park Row
ISBN:
0778311015
on March 2, 2021
Genres:
Contemporary Fiction
,
Historical Fiction
,
Mystery
Pages:
305
Format:
Paperback
Buy on Amazon
Buy on Bookshop.org
This post contains affiliate links you can use to purchase the book. If you buy the book using that link, I will receive a small commission from the sale.
Goodreads

A female apothecary secretly dispenses poisons to liberate women from the men who have wronged them - setting three lives across centuries on a dangerous collision course.

Rule #1: The poison must never be used to harm another woman. Rule #2: The names of the murderer and her victim must be recorded in the apothecary's register.

One cold February evening in 1791, at the back of a dark London alley in a hidden apothecary shop, Nella awaits her newest customer. Once a respected healer, Nella now uses her knowledge for a darker purpose—selling well-disguised poisons to desperate women who would kill to be free of the men in their lives. But when her new patron turns out to be a precocious twelve-year-old named Eliza Fanning, an unexpected friendship sets in motion a string of events that jeopardizes Nella's world and threatens to expose the many women whose names are written in her register.

In present-day London, aspiring historian Caroline Parcewell spends her tenth wedding anniversary alone, reeling from the discovery of her husband's infidelity. When she finds an old apothecary vial near the river Thames, she can't resist investigating, only to realize she's found a link to the unsolved "apothecary murders" that haunted London over two centuries ago. As she deepens her search, Caroline's life collides with Nella's and Eliza's in a stunning twist of fate —and not everyone will survive.
This was a fun read. I received this book from a work colleague who said it was one of her favorite reads last year, and she didn't see it on my Goodreads account. In fact, this book hadn't even crossed my radar until she gave it to me. My favorite genre is historical fiction, and I enjoyed going back in time to Nella's apothecary shop. Usually, when books are set in both the past and the present, I find the parts set in the present kind of a slog. A good example of this phenomenon is Anne Rice's books. However, this book was different. The parts set in the present were just as captivating, mainly because I enjoyed Caroline's quest to find out the story behind the apothecary bottle she found while mudlarking in the Thames. Parts of the storyline strain credulity. I know enough about historical research to know Caroline would have had to have done a lot more digging to find the answers she sought, and it would have taken years, if she even found them at all. But books are where you go to escape realism sometimes, and this book was a nice escape. It's a light read that I'd recommend to anyone who likes reading historical fiction, particularly set in London, or anyone who wishes, like Caroline, that they could take a vacation in London all by themselves.