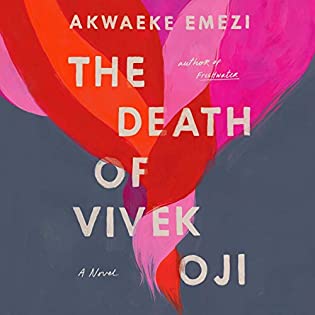 The Death of Vivek Oji
by
Akwaeke Emezi
Published by
Penguin Audio
on August 4, 2020
Format:
Audio
,
Audiobook
Source:
Library
Buy on Amazon
Goodreads

Named one of the year's most anticipated books by The New York Times, Harper's Bazaar, BuzzFeed, and more. What does it mean for a family to lose a child they never really knew?

One afternoon, in a town in southeastern Nigeria, a mother opens her front door to discover her son's body, wrapped in colorful fabric, at her feet. What follows is the tumultuous, heart-wrenching story of one family's struggle to understand a child whose spirit is both gentle and mysterious. Raised by a distant father and an understanding but overprotective mother, Vivek suffers disorienting blackouts, moments of disconnection between self and surroundings. As adolescence gives way to adulthood, Vivek finds solace in friendships with the warm, boisterous daughters of the Nigerwives, foreign-born women married to Nigerian men. But Vivek's closest bond is with Osita, the worldly, high-spirited cousin whose teasing confidence masks a guarded private life. As their relationship deepens—and Osita struggles to understand Vivek's escalating crisis—the mystery gives way to a heart-stopping act of violence in a moment of exhilarating freedom.

Propulsively readable, teeming with unforgettable characters, The Death of Vivek Oji is a novel of family and friendship that challenges expectations—a dramatic story of loss and transcendence that will move every reader.
I read this book as part of the Book Voyage: Read Around the World Challenge for September: read a book set in Africa. I had been wanting to read The Death of Vivek Oji for some time, and friends had recommended it. I also read it in the wake of Chimamanda Ngozi Adichie's attack on the author, Akwaeke Emezi, which made the rounds on Twitter and revealed Adichie has anti-trans sentiments, so I thought reading this book might be one way to support the author.
I'm not really sure why the story didn't grab me. I think because Vivek/Nnemdi was an ancillary character in her own death, even though Emezi gave her a voice to narrate some of the chapters from her grave. Instead, this was the story of everyone else's reactions to her death—yes, I get that this was the point—and especially due to the fact that no one was using her proper pronouns until the end, I was finding it hard to really follow her as a character. How did she identify? I felt like it mattered that the reader understand this important fact of her life. I felt like there was a bit too much going on to make the story gel for me. Osita's conflict over his sexuality and relationship with his cousin, Juju's conflict over her sexuality, the infidelity of Juju's father, Juju being a girl instead of a boy, and the Niger wives' experiences as ex-pats married to Nigerian husbands. Any one of those topics would have been ample material for a novel, but put together made the novel feel like it didn't quite cohere for me.
On the other hand, the writing is very good, and the perspective Emezi offers is fresh. I understand that voice is paramount in Emezi's work. Kavita's grief over the loss of her child was palpable and very hard to read. For me, she is the character who emerges as most memorable, and I would have loved a focus entirely on her story as she wrestled with her grief and found out the truth about her child's gender identity after that child's death. The audiobook narrators were brilliant as well, and I highly recommend listening to this on audio with the caveat that it is hard to follow as the story shifts in time. In fact, that might be the reason it didn't quite grab me. However, even though this book wasn't for me, I recognize what Emezi is doing and look forward to reading other works they write.