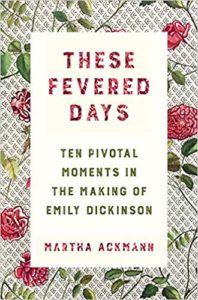 These Fevered Days: Ten Pivotal Moments in the Making of Emily Dickinson
by
Martha Ackmann
Published by
W. W. Norton Company
on February 25, 2020
Genres:
Poetry
,
Nonfiction
Pages:
304
Format:
Hardcover
Buy on Amazon
Goodreads

An engaging, intimate portrait of Emily Dickinson, one of America's greatest and most-mythologized poets, that sheds new light on her groundbreaking poetry.

On August 3, 1845, young Emily Dickinson declared, "All things are ready"—and with this resolute statement, her life as a poet began. Despite spending her days almost entirely "at home" (the occupation listed on her death certificate), Dickinson's interior world was extraordinary. She loved passionately, was ambivalent toward publication, embraced seclusion, and created 1,789 poems that she tucked into a dresser drawer.

In These Fevered Days, Martha Ackmann unravels the mysteries of Dickinson's life through ten decisive episodes that distill her evolution as a poet. Ackmann follows Dickinson through her religious crisis while a student at Mount Holyoke, her startling decision to ask a famous editor for advice, her anguished letters to an unidentified "Master," her exhilarating frenzy of composition, and her terror in confronting possible blindness. Together, these ten days provide new insights into Dickinson's wildly original poetry and render a concise and vivid portrait of American literature's most enigmatic figure.
I have been waiting to read Martha Ackmann's biography of Emily Dickinson, These Fevered Days, for a few years. Ackmann was one of my instructors at a weeklong workshop on Emily Dickinson's life and work sponsored by National Endowment for the Humanities. In fact, she read the second chapter of this book to us during one session. At that time, she was contemplating calling the book Vesuvius at Home.
The conceit of this book, that ten days changed Emily Dickinson so that she was "different, say, at ten o'clock at night from how she was at ten o'clock that morning" (xviii), is novel and works well, especially considering Dickinson's life has been the subject of much biographical writing (in spite of her more interior existence). While Ackmann engages in a bit of speculation about what her book's subjects were thinking or doing, it rings true, and I know for certain that Ackmann's conjecture is based on solid research. For example, she obtained permission from the Director of the Emily Dickinson Museum to go into the attic of the Dickinson home so that she could ascertain the "certain slant of light" in the room and read Shakespeare aloud, as Dickinson did, in order to determine what that experience was like so that she could render it properly. Dickinson proclaimed that "the rafters wept" at her own reading. Ackmann has also taught a course at Mount Holyoke on Emily Dickinson for years—even bringing her students into the Dickinson home to study her work. Having been a student of Ackmann's for only week, I'm still not afraid to say she has lived and breathed the poet's life and work for years, and that knowledge shines forth in this book. The final chapter on Dickinson's final day of life is rendered especially poignant. Rather than witnessing the passing of a great poet, Ackmann made me feel like I had witnessed the passing of an old and great friend.
Even if you've read biographies of Dickinson before, you'll want to read this book for its intimate portrait of the moments that changed Dickinson's life. As Ackmann acknowledges, other Dickinson scholars might choose different days, but Ackmann focuses on the following:
The day Dickinson decided to write.
Dickinson's decision not to commit herself to Christ at the behest of Mary Lyon, principal of Mount Holyoke Female Seminary, where Dickinson was attending school.
Emily Dickinson's first publication (despite popular belief, she did publish a few works anonymously in her lifetime).
Dickinson's decision to bind her poems together in fascicles and preserve them (Christanne Miller's book Emily Dickinson's Poems: As She Preserved Them is a wonderful resource for more on this).
Dickinson's work on F124 "Safe in their Alabaster Chambers" with her sister-in-law Susan Gilbert Dickinson's advice.
Dickinson's remarkable decision to write to Thomas Wentworth Higginson (who was living in my home city of Worcester, MA at the time) after reading his article "Letter to a Young Contributor" in The Atlantic Monthly and begin a lifelong correspondence and friendship.
Dickinson's brush with blindness.
The first meeting of Emily Dickinson and Thomas Wentworth Higginson.
The publication of Dickinson's poem F112 "Success is Counted Sweetest" in the No Name series after much cajoling by her friend Helen Hunt Jackson.
The day Emily Dickinson died.
Reading this book was extra special for me because I had the opportunity to visit Dickinson's home on several occasions, and I was even permitted to take photographs. I was able to visualize the moments Ackmann describes with greater clarity—I felt like I was there, and not only because of my memories of the Dickinson homestead but also because of Ackmann's precise description.  Check out Ackmann's article at The Paris Review for some exquisite photos of Emily Dickinson's dress. Even though the dress on display at the museum is a copy, I'll never forget the first time I saw it. I was visiting Amherst for my birthday, and we were touring the Dickinson home. Our guide led us upstairs, and the dress was there on the landing. The light streamed in through the window and illuminated it. It truly took my breath away. One might almost have thought Emily Dickinson herself was standing there. After that thought, my second thought was, "She was so tiny!"
Emily Dickinson means a lot to me. Her poetry brought me comfort after a very difficult loss. Martha Ackmann's book is well worth your time if you'd like to indulge in a delightfully intimate portrait of the poet in some of her most momentous events.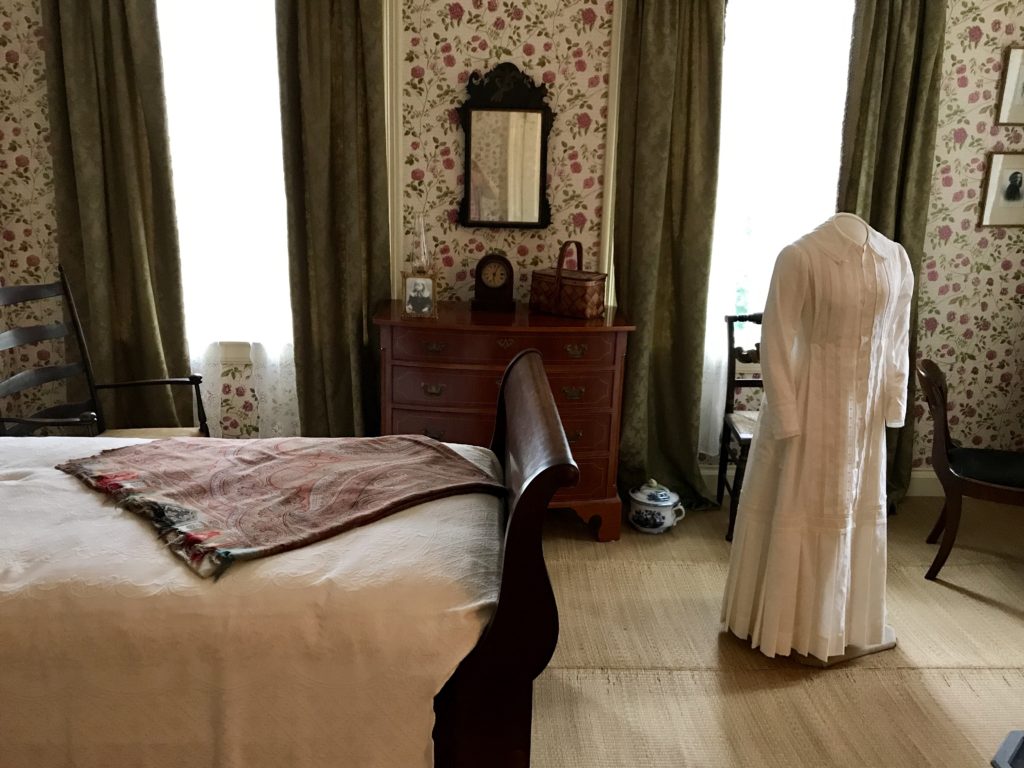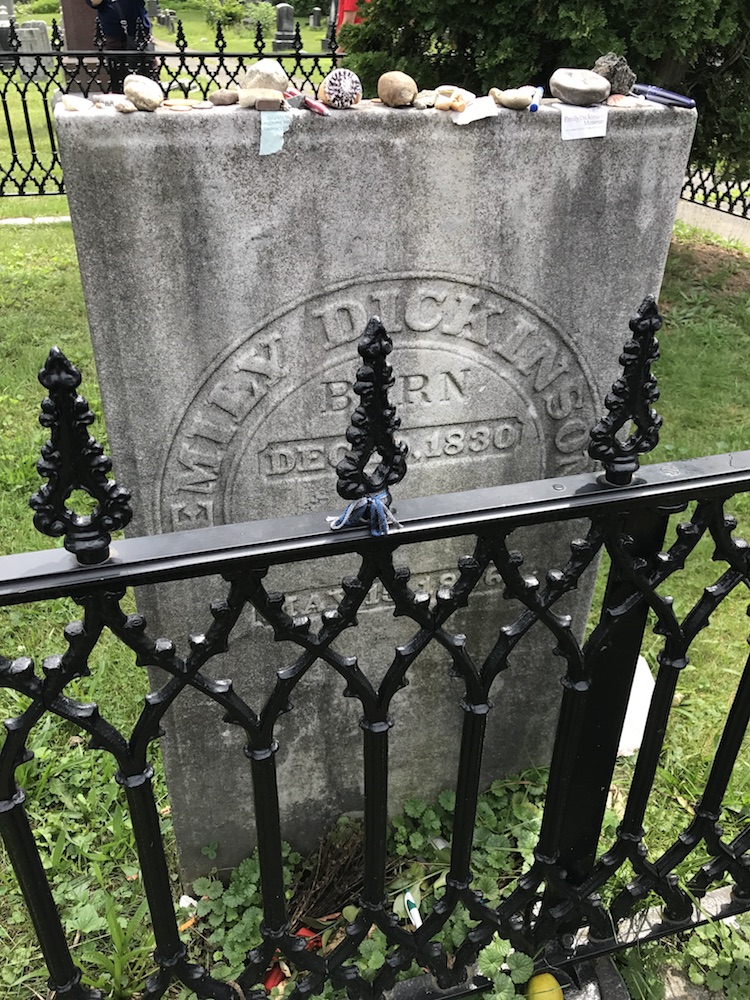 Note: Please do not reproduce these images. I am permitted to share them as long as I do not seek to profit from them, but I am not able to control what happens to them once they are stolen, and I have pursued websites with DMCA takedown notices for taking these images without permission or credit.