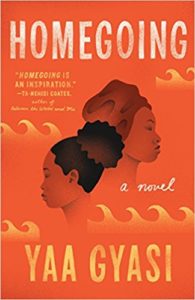 Homegoing
by
Yaa Gyasi
Published by
Vintage
on April 7, 2017
Genres:
Historical Fiction
Pages:
305
Format:
Paperback
Buy on Amazon
Goodreads
Ghana, eighteenth century: two half-sisters are born into different villages, each unaware of the other. One will marry an Englishman and lead a life of comfort in the palatial rooms of the Cape Coast Castle. The other will be captured in a raid on her village, imprisoned in the very same castle, and sold into slavery.

Homegoing follows the parallel paths of these sisters and their descendants through eight generations: from the Gold Coast to the plantations of Mississippi, from the American Civil War to Jazz Age Harlem. Yaa Gyasi's extraordinary novel illuminates slavery's troubled legacy both for those who were taken and those who stayed—and shows how the memory of captivity has been inscribed on the soul of our nation.
Homegoing took my breath away. At times, I had to put it down for a little bit just to think about what I had read, and other times, I couldn't put it down. I finished it in about three giant gulps over a couple of days. While Gyasi's prose isn't flashy, the story she tells pierced me right through the heart. I think it's changed my life. Ernest Hemingway said once, "All good books are alike in that they are truer than if they had really happened and after you are finished reading one you will feel that all that happened to you and afterwards it all belongs to you; the good and the bad, the ecstasy, the remorse, and sorrow, the people and the places and how the weather was." That's how I feel after reading this book. That it's truer than if the stories it told really happened and that those stories now belong to me in some way. I can't find it now, but I swear I've read a quote by some famous smart person that said something along the lines of this: every once in a while, you encounter a book, and it becomes such an important book to you and leaves such an impression, that you can mark your life before you read it and after.
The book is drawing inevitable comparisons to Roots, and for good reason. One criticism I've read of Gyasi's writing in several reviews is that many of the experiences of the African-American branch of the book's family seem sort of "shoehorned" into African-American history. In a sense, I can see it, but to me, it never felt inauthentic. I mean, it wasn't like Forrest Gump. In a way, I saw some of these passages as connections to African-American literature, such as James Baldwin's story "Sonny's Blues" or the American legend of John Henry. Isabel Wilkerson criticized Gyasi for perpetuating a stereotype:
And there is a jarring moment when the last of the West African line, a young girl named Marjorie, immigrates to America with her parents, settling in Huntsville, Ala. (as did Gyasi's family). There, she learns that the people who look like her "were not the same kind of black that she was." The only African-American student we meet is a girl named Tisha, who ridicules the studious Ghanaian. "Why you reading that book?" Tisha asks her. When Marjorie stammers that she has to read it for class, Tisha makes fun of her. "I have to read it for class," Tisha says, mimicking her accent. "You sound like a white girl." It is dispiriting to encounter such a worn-out cliché—that ­African-Americans are hostile to reading and education—in a work of such beauty.
I totally understand Wilkerson's pain at encountering this stereotype. Yet, the incident as described in the book smacks of something that really happened to Gyasi. One has the feeling that as a Ghanaian immigrant, she did feel different and was treated differently. I certainly don't mean to discount Wilkerson's criticism. When I read the scene, I felt the same way as Wilkerson, and yet, I also sensed it was possible an uncomfortable true story was fictionalized for Gyasi's character.
Gyasi is at her most brilliant in describing the relationships between parents and children. It's maddening and frustrating that the reader knows the stories of the ancestors unknown especially to the African-American family, but also to the African family as well, and in their case, because of choices made by the characters. So much loss. It's difficult to comprehend. Some studies suggest that trauma leaves an intergenerational impact. And when you have a situation in which trauma is re-inflicted, for generation after generation, recovery seems almost hopeless. But empathy—telling our stories, and especially listening to the stories of others—is one path forward.
I had a feeling about the way the story might end up, and it was gratifying and redemptive. While parts of this book are difficult and grueling—Gyasi does not flinch from the realism of the characters' experiences, and she forces us to look, too—there is also much joy and love, and it's hard not to feel hopeful after reading the end. This is one I think I'll be recommending to everybody.